For the second year in a row, Ken and Evan Chappell took top honors at the Lake Auman Sports Club's annual Spring Team Bass Tournament held Saturday, May 6, 2017 on Lake Auman.   Despite the cooler than normal temperatures and the rainy and windy conditions, this year's tournament had a good turnout of hardy anglers willing to brave the conditions.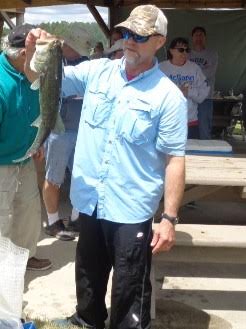 Twenty anglers made up the nine teams that competed in this four hour catch and release event with prizes awarded to the teams with the heaviest five fish total weights for the day and to individuals for the largest bass caught overall.
First place team honors went to the father son team of Ken Chappell and Evan Chappell with a total weight 8.91 pounds.  Close behind, finishing in second place, was the team of Art Parker and Bob Mathews with a total weight of 8.89 pounds.  Finishing in third place on the leader board was the team of Don Smith, Rich Lovett and Jason Lovett with 8.39 pounds.
The big bass prize went to Greg Lyne Sr. for catching a 4.01 pound bass.  Don Smith received the prize for second largest bass caught which weighed 2.98 pounds and Brian Atkins for the third largest bass weighing 2.88 pounds.
Participating anglers always enjoy the picnic luncheon at Johnson Point following these bass tournament events and this time was no exception.  Charlie Flinchum again organized the luncheon and was assisted this year by Don Smith who helped with the shopping for the event, Charlie's brother Reid and Tom Lawless did most of the grilling and new member Glenn Anderson lending a hand as well. Thanks everyone, excellent job!
The Lake Auman Sports Club bass tournaments are held each year in the spring.  For questions and additional information about them or the Sports Club, contact the tournament organizer Don Smith.