Written by Seven Lakes West Resident Mary Price.
At a recent reunion of the Price and Rinefort families in Pigeon Forge, Tennessee, the family Eagles donned their sashes for a picture to recognize the latest fourth generation scout to join the nest.
Wesley Price, who received his eagle award in 2017, is the grandson of Bill and Mary Price from Seven Lakes.   Wesley lives in Southlake, Texas and is attending the University of Oklahoma.
Three of the four generations were represented at the reunion.  Missing from the picture is first generation scout, Clarence Price, who started the Eagle clan.  Clarence Price attended the First International Scout Jamboree in London, England in 1920 representing his scout troop from Denver, Colorado.
This nest of Eagles has served scouting in states throughout the country including Colorado, Illinois, Indiana, California, Connecticut and Texas. Individually they have served scouting in many capacities including the role of Scoutmaster.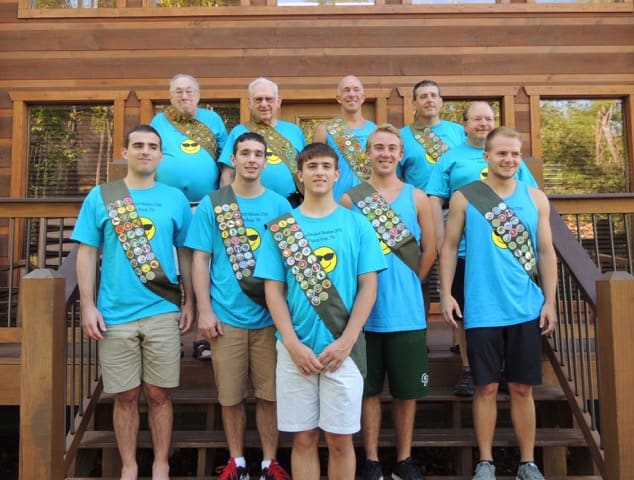 On the back row of the picture are second generation scouts Foster Rinefort from Charleston, Illinois (Clarence's son-in-law) and Clarence William Price, Jr. (Bill) from Seven Lakes, North Carolina.  Also on the back row are third generation scouts, Scott Rinefort from Laguna Niguel, California, Charlie Price (Bill and Mary's son) from Southlake, Texas and Kevin Flynn (Bill and Mary's son-in-law) from Novato, California.  On the front row are fourth generation scouts Connor Price, Trevor Price, Wesley Price, Tommy Rinefort and Kyle Flynn.  Connor, Trevor, Wesley and Kyle are Bill and Mary's grandsons.