Edie Reinhardt has been living in Seven Lakes North for the past thirteen years with her husband, Bob.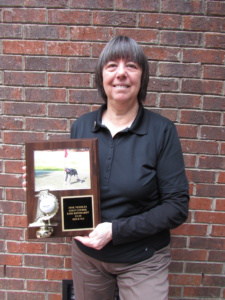 Her husband has been golfing for the past thirty-five years of his life, and Edie decided to join him in the sport thirty years ago in 1988.
When Edie first began playing, her husband and two sons, Jeff and Rob, were all trying to tell her how to play.  She finally resorted to taking lessons.
"I had to go for a couple weeks of lessons," Edie said.  "I had a goal to break 110, then 105…"
After moving to Seven Lakes, Edie met Linda Geiger who was also an avid golfer.  They would call each other up to go and play together during the week along with friends.  Their first game together was on September 24th, 2008.
Eventually, the ladies decided to expand their group and have more ladies join.  It was then that Edie, Linda, and their friend, Carole Thompson, started the Driftettes.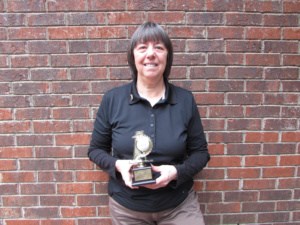 "We called it that because we would drift around [from course to course]," Edie said.  "We played several times and decided to just add a few more girls so that we could always play if someone was not available."
This year the Driftettes are celebrating their tenth year.  They currently have nineteen women in the group and typically play together every Tuesday from March through November.
On February 1st, 2018, Edie made her first ever hole in one at the Pine Needles Course at Hole #13 which was a Par 3 hole.  It was her first time playing that course.  She shot 131 yards using a 4 Hybrid Club.
"It was a beautiful day," Edie said.
A group of eight women from the Driftettes were playing together, including Edie.  It was not an official Driftette play day.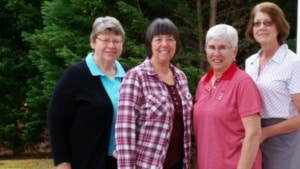 The first foursome included Edie Reinhardt, Sara Swicegood, Carolyn Sink, and Dawn Shapiro.  The second foursome included Linda Geiger, Diane Kuhn, Sue Frank, and Jan Moore.
After Edie made her swing, a couple of the ladies noticed the ball heading perfectly towards the hole.
"Sara said, 'It's headed to the hole'," Edie explained.
All of the ladies were excited to witness the hole in one.  When Edie arrived home, she told her husband and sons about her achievement.
"She was smiling ear to ear," Bob said.  "It was 131 yards; that's about a football field and a third."
Bob and her sons congratulated her, and Bob and her friend Diane both surprised her with trophies.  Edie will also be entering in a CGA drawing specifically for those who make a hole in one.
"Some people play golf their whole life and never get a hole in one," Bob said.
"The Pine Needles Course is beautiful," Edie said.  "It wasn't an easy course to play."
"It's a very prestigious course; it's a well thought of course around the country," Bob added.  "Pine Needles is probably almost as well known as the Pinehurst No. 2 course."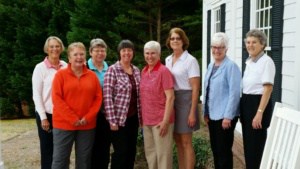 The ladies U.S. Open will be returning to Pine Needles in 2022.
Although it is rare to get a hole in one, Edie's tip for doing so is quite simple.
"You hit towards the hole and the rest is pretty much luck," she said.
Bob, who got a hole in one in 1986, also has a tip.
"Play a lot of golf," he said.
Bob and Edie also play together every year on vacation.  Their goal is to play golf in every state.
"We take about a month-long trip," Edie said.  We research states and combine notes."
So far, they have played in about thirty states, and the list grows every year.
"The goal now is to play often and have fun," Edie said.