Bill Carter was born and raised on a farm in the Eagle Springs area where his parents taught him how to work the land.  They grew tobacco and other produce.
"I worked with them as a child and teenager," Carter said.  "I have farmed ever since I finished college."
Carter left Moore County to attend university with no intention of returning.  However, after receiving a degree in horticulture, he realized that Moore County would always be his true home.
After marrying the love of his life, Paige, over thirty years ago, Carter found a piece of land in Eagle Springs for them to settle down on and raise a family.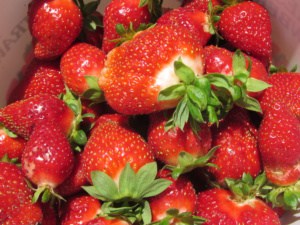 After a few years of renting, they purchased the land as their own.  They now live with their five children ranging in age from nine to twenty-one.
"At Carter Farms we grow tobacco, corn, wheat, rye, soybeans, strawberries, cantaloupes, watermelons, sweet potatoes, and more," he said.
Between their own land and land they rent for farming, the Carter family tends to about 2,000 acres of land.
Most of the produce is sold commercially, and it was not until twenty-five years ago that Carter decided to get the community involved at the farm.
"Strawberries are the only thing we sell on the farm.  Other produce is sold at wholesale, roadside, or at some state farmer's markets," Carter said.
Strawberry season typically lasts from mid-April through the first week in June, but it can vary depending on the season and rain.
When Carter realized no one in the area was growing strawberries commercially, he decided it was the perfect opportunity to have families come to see the finished product.
"The first few years our sales were almost exclusively 'You Pick', then 'Pre-Picked'," he said.  "It's nice to have folks come on the farm and appreciate what you do in the community."
During the earlier years, locals used to come and pick dozens of strawberries to freeze or make into jam.
"We very much like having folks come to the farm and make a connection and appreciating what's there," Carter said.
One of Carter's favorite parts of having a farm is the farming process itself.
"It's very rewarding in many ways.  You start with the seed and the planting, and you ultimately end up with a crop," he said.   "We like to say that if farming was easy and straightforward that everyone would want to do it because it's so rewarding."
Every year Carter Farms goes through the cycle of planting, growing, and harvesting.
"Overall it's the whole process: the rising up in the spring and getting it up before the fall," Carter said.
Carter is also glad to have his farm in the Moore County community.
"We're just appreciative that… folks are very accommodating," he said.  "We actually feel very blessed to be as well received in the community as we are.  Folks are actually a lot more aware of farming than they were twenty-five or thirty years ago."
Carter Farms is located at 673 Eagle Springs Rd. in Eagle Springs.  Their strawberry picking season is expected to last through the first week of June.  Pick berries with the family, or buy a fresh basket or already-picked strawberries!  For more information, call Carter Farms at (910) 673-7730.