Gathering at Given. "For Love or Money"
July 12, 2018 @ 3:30 pm

-

5:00 pm

Free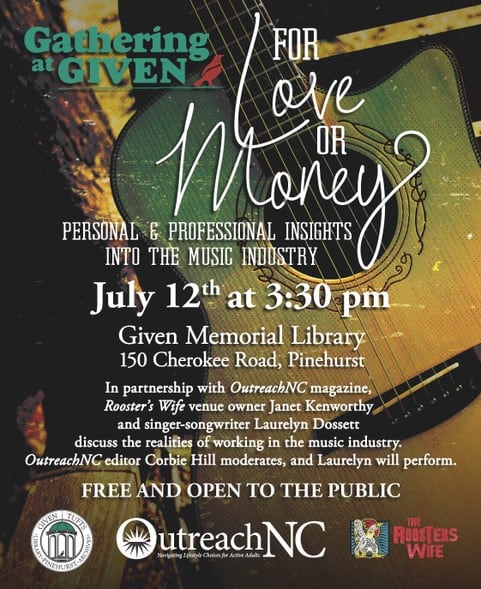 June 18, 2018
FOR IMMEDIATE RELEASE
MEDIA CONTACT: Corbie Hill. editor@outreachnc.com. 919.428.4757
WHAT: Gathering at Given – For Love or Money: Personal and Professional Insights into the Music Industry
WHO: Janet Kenworthy of The Rooster's Wife; Singer-songwriter Laurelyn Dossett
WHEN: 3:30 p.m., July 12
WHERE: Given Memorial Library. 150 Cherokee Road, Pinehurst
In the music industry, it's all about concentric circles.
One connection leads to another leads to another. Indeed, the music industry is significantly smaller than one might think. Thusly, many musicians, venue owners, record label folks, music journalists and other music professionals are connected to one another in quite the same way that people in a small town know one another. To navigate these concentric circles – that is, to exist within your network – is part and parcel of the music professional experience.
On July 12, we pull back the curtain of the music industry when Rooster's Wife owner Janet Kenworthy and North Carolina singer-songwriter Laurelyn Dossett appear in conversation with OutreachNC editor-in-chief Corbie Hill at Given Memorial Library. This "For Love or Money" program will delve into the nature of networking among musicians which, among other things, has led notable and interesting artists to play The Rooster's Wife in Aberdeen and has resulted in Dossett collaborating with the late Levon Helm.
Beyond that, Dossett and Kenworthy, both of whom entered the music industry later in their lives, will tackle the event's titular question: how does one balance the love of music with the need to make money? OutreachNC editor Hill will have occasional input as well, as he is a member of the music press through a number of freelance writing outlets, and Dossett will perform three songs. "For Love or Money" will also be broadcast on Facebook Live through The Rooster's Wife Facebook page at facebook.com/poplarknight.
NOTE: Older versions of the Gathering at Given calendar have this event listed as "Bringing World-Renowned Musicians to the Sandhills." This was an old title, which has been replaced with "For Love or Money." Please refer to it as "For Love or Money," as this is more appropriate to the subject matter.
# # #