Alison Arngrim needs no introduction. However, if you were the one person living under a rock that never watched Little House on the Prairie, a television show that has ran in over 140 countries, you may not know who she is. Alison portrayed the conniving, spoiled nemesis, Nellie Oleson for seven seasons before moving on to feature films, AIDS activism, writing a best-selling autobiography, and doing many standup routines.
On March 13th she is traveling to Pinehurst to star in Judson Theatre Company's much-anticipated play, And Then There Were None, Agatha Christie's best-selling whodunit. "I've been to North Carolina but I've not been to Pinehurst. When I looked up Judson Theatre Company I saw a lot of my friends had done shows there. Dawn Wells, Teresa Ganzel, and I noticed when looking back at past seasons that practically everyone I know has been there to do a show, I thought I'd better go."
Alison, totally comfortable with having been typecast for many years, will play the nasty spinster, Miss Emily Brent. "I've always liked Agatha Christie and read all her books. When I looked up the character I'm playing I was like, 'Oh of course I'm playing the bitchy one–why am I not surprised'!" When asked how she felt about playing the female Malfoy of a series for so long, she laughingly embraced it. "I love him! I'm telling you he's my spiritual son, I mean look at us. People have asked me if we are related."
Alison perfected the craft of playing an evil woman so well, that she still to this day has haters. Picture her being struck in the head with an orange soda during a Christmas day parade and you'll get the idea. "I hit a nerve apparently." Since playing Nellie, Alison has accepted being known as evil, nasty, and bitchy. In fact, in her book, 'Confessions of a Prairie Bitch', she talks about how portraying a mean girl actually got her through a rough childhood full of carefully hidden secrets and sexual abuse.
Oddly enough–because no one could ever imagine her playing a different role–Alison first auditioned for the part of Laura Ingalls and then came back and auditioned for Mary Ingalls as well as a few others before snagging Nellie.
"Everyone auditioned for Laura Ingalls. It was sort of like the search for Scarlet O'Hara. I kept I auditioning for different roles and they kept calling me back. I had no idea there was a Nellie Oleson. When I came back to read for her, I was sitting there with my dad going, 'This girl is horrible. She's a bitch.' I started reading it for him and he just laughed so hard and said don't change a thing. So I didn't and by the time we got home they'd already called my agent and I was hired."
During her seven seasons on the iconic television show, she bonded with her costars so well that they all still keep in touch with one another, coming together for many Little House on the Prairie reunions including their 40th anniversary last year on The Today Show.
"Most people, after a television series is done, it's a miracle if they ever speak to each other again. We're all on Facebook and Twitter and what have you. We're a pretty close group. I think we bonded because of the show and being on location together so long that everyone is still tight-knit."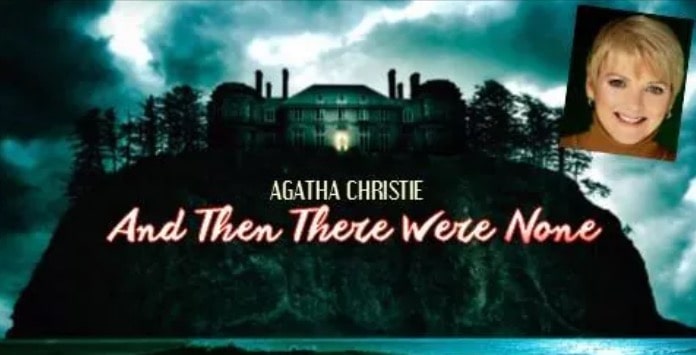 After starring in Little House, there was never a dull moment for the quickly maturing Arngrim. She was offered more adult-themed drama roles in big shows like Fantasy Island, The Love Boat, and CHiPS. "It was like a court ordered program if you were on a show in the '70's that you had to be on The Love Boat and Fantasy Island like it's the law."
Since then, Alison has starred in several feature, TV, short films, and most recently a horror web series titled, The Mephisto Box. In the movie, she portrays the daughter of a couple that ran a huge satanic cult. "I went up to Seattle and I was running around the forest with buckets of blood in a wig with a knife, playing this high-priestess. I'm basically a disgruntled ex-satanist! I killed four people and a rat over the weekend."
There will be five performances of And Then There Were None at Owens Auditorium starting March 23rd through 26th. Allison is just as excited as we are about the play. "I love her character. She's very Downton Abbey– we are not amused. I really like her so I think this will be fun."
While visiting Pinehurst, Alison plans on doing a little sightseeing with the producer of the show, part-time Moore County resident and Broadway producer, Morgan Sills.
"We have arranged to have a book signing at the Country Bookshop on March 16th at 5pm. Of course there will be autograph signings after the show too. I do want to look around."
To purchase tickets for And Then There Were None, CLICK HERE.
This article was re-posted with permission from

The Aberdeen Times.