With the motto to "Know, grow, and show the love of Christ to the next generation," Faith Baptist Church is actively taking part in encouraging learning in their students.
Bryan Foster is the Director of Children's Education at the Growing In Faith Academy. "When our church was looking into how we could help our community, we saw that there were a large number of families looking for religious sponsored preschools and day cares," he said.
In January 2018, the Growing In Faith Academy opened up in the Faith Baptist Church of West End.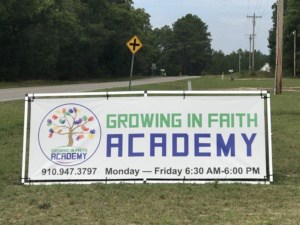 "The activities we provide for the students are structured in the classroom and their outdoor play is often their free play time which is an hour a day, depending on weather."
Building the foundations of learning mixed with free play, social activity incorporation, and a solid curriculum, organized structure is a great launching pad for student learning.
"We often have them begin with their Bible activities, then their educational basics, then the teachers will incorporate the play like a science station or social studies station into their class time," Foster said.
This school meets the needs of the community in their educational, spiritual, and moral support to both their students and their families.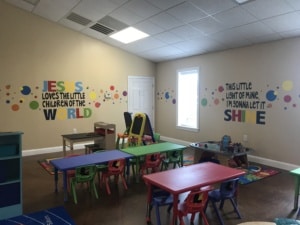 Foster explained, "We are able to meet needs for this community on a couple of levels, we help the working parents, we teach the children spiritual foundations through Biblical teaching, and we give the children the educational basics to send them into the rest of their educational journey."
Parents and children do not have to attend the Faith Baptist Church to be able to apply and attend the Growing in Faith Academy, they are excited to be able to pour into the young minds of children with a variety of backgrounds.
The school is open all year around, from 6:30AM to 6:00PM. With one week off in July for vacation break and time off. They also provide for part time students and work connecting one on one with the parents to find a schedule that works best for their needs. They also do accept child care subsidies through Moore County Department of  Social Services.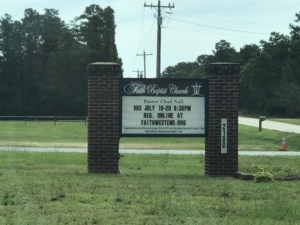 "We are excited to welcome new students and we want parents to feel rest assured of their child's well being and safety, so we encourage parents and those looking for a place to care for their young children to come and take a tour. We want parents to come and see things here for themselves so then they can understand and ask questions about how we structure things here," Foster said.
With the desire to expand as a school to be able to have classes for all grades into the future, there is the vast need for schools in the Moore County community that have religious teaching integrated into the curriculum.
"It is our prayer that God would give us what we are ready for, whether that is an expansion of students or an expansion of our community, we are looking forward to that in the future," Foster said.
If you are interested in the school or looking for more information, feel free to contact Bryan Foster at gifwestend@gmail.com or call (910) 947-3797. Feel free to visit their website at http://www.gifwestend.org.