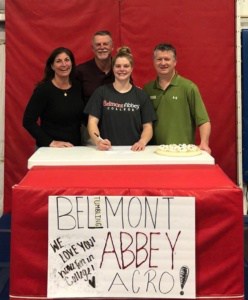 Allie started taking gymnastics classes when she was three years old.  At the age of five, she started in tumbling classes and has kept with the sport for most of her life.
"My mom was a gymnast and was always strong and flexible," she said.  "As a kid I would run around and have a lot of energy, so they put me in the gym… I love how it pushes me physically and mentally."
Allie Smith has lived in Seven Lakes South her entire life and was raised by her parents Tammi and Steve Smith.  She is currently a senior at Pinecrest High School.
This semester, Allie was scouted by Belmont Abbey College, locate outside of Charlotte, NC, for her athletic skills.
Since joining the Sandhills Academy of Gymnastics, Allie has qualified for state every year and tied for second in her level seven state vault competition.
"A vault is where you run full speed at a stationary object and jump off a springboard to flip over that object," Allie said.
When Emily Powers from Belmont Abbey scouted out Allie for her tumbling, Allie was overjoyed.
"I found out she was scouting me and applied to the college," Allie said.  "I focused more on getting my body back into shape and practicing for tumbling."
At Belmont, Allie will be able to compete in tumbling and continue her athletic career as well as study for a future career in sports medicine.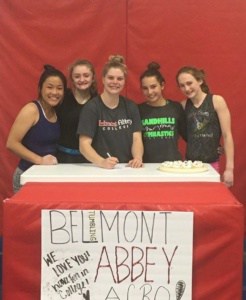 With both parents in the nursing field – Tammi at UNC and Steve at First Health – it's no surprise that Allie is choosing a career that also helps others.
"My parents are excited for me… I'm going to try to major in biology and do internships and go into sports medicine," Allie said.  "I've always done sports and am always getting hurt.  When I was getting help with sports medicine, it sparked an interest."
Some of the injuries that Allie has received as an athlete include broken and dislocated toes, two major sprains in her left ankle, and an injured elbow just to name a few.  In the future, she hopes to help other athletes through the healing process of such injuries.
"I just like when they readjust your body with the bones."  She said.  "Sitting in massage chairs and such, it helped with healing."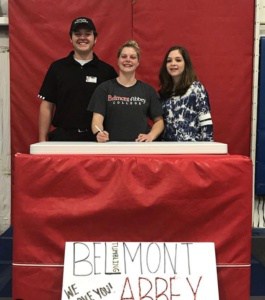 On August 17th, Allie will be heading to Belmont for her freshman year.
"The campus is really pretty," she said.  "I really like how small the class sizes are – the largest class size is seventeen students.  The first thing they told us is, 'You will not be a number; you'll be a name'."
Allie's family and friends were also supportive of this new opportunity.
"I was very proud of her," said her boyfriend, Alex Nichols.  "I was surprised.  Not like a bad surprise – I knew she could do it.  She's always been a go-getter."
"I was overjoyed when she got scouted," said Bethany Ptak, one of Allie's friends.
Allie is glad to be going to a college that is not too far from family and friends.
"I'll be able to come back and visit when I want to," she said.  "I'm really excited about this opportunity.