Imagine Youth Theater performed the musical Oklahoma on July 19th and 20th at the O'Neal school in Southern Pines.   Imagine Youth Theater is an extension of Taylor Dance's The Playhouse.
The musical was directed by David Lussier, who has over thirty years of musical theater experience.
The musical director was Nicole Sommers who graduated from the College of Saint Rose in Albany, New York with a Bachelors and Masters Degree in Music Education.
Carol Johnson was the choreographer for the production and is the faculty coordinator for Winston Salem Festival Dance Center and Taylor Dance.
The production was comprised of students from age seven through high school age.  Although some were young, many of them were already familiar with the theater.
"I have done several plays here before," one ten-year-old said.
"My favorite thing is to sing," said a girl of seven years old.
The musical helped inspire the hopes of the young performers for once they graduate high school.
"I would like to be a professional actor," one fifteen year old young man said.  "I've been in twenty shows and have been acting since I was six years old."
While rehearsing for the musical, the young actors formed inspirational relationships with their mentors.
The students described Director David Lussier as interactive, determined, magnificent, awesome, and an amazing director.
Music Director Nicole Sommers was said to be incredible, enthusiastic, fun, helpful, and hyper.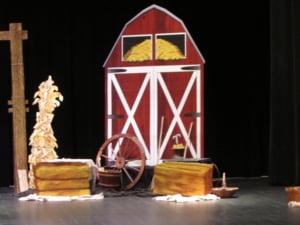 Choreographer Carol Johnson was described as generous, kind, fantastic, and sweet.
Twenty-eight students performed in Oklahoma with skills ranging from beginner to professional.
According to the students, some of the most difficult parts of rehearsal were learning the character, learning the lines, and simultaneously dancing and singing.
Their favorite parts of acting were singing and having music.
Two professionals performed in the production.  One was Nick Franco who was assistant manager.  The other was Kira Campbell who took on the role of stage manager.
Kira graduated from Pinecrest in 2017 and had been involved with managing plays for the company for years.  She knew she wanted to do theater during her junior year of high school.
"I love the kids so much," she said.  "I love acting; I especially love drama."
"[Kira] works extremely efficiently to be stage manager," Carol Johnson said.  "She's very organized and patient.  We're happy to have her."
Imagine Youth Theater has been officially operating for four years, teaching core theater skills, acting, dance, and vocals.
They will also be starting an Imagine Broadway music theater program in the fall.
The next musical will be Shrek the Musical, Jr. which will be performed on November 16th and 17th.  Auditions will be held for ages seven to twenty-two on August 28th and 30th from 5:30PM – 7:30PM at the new Taylor Dance location of 250D Olmstead Blvd. in Pinehurst.  No experience is necessary.
For more information about the Taylor Dance theatre programs, visit www.taylordancetheplayhouse.org