When Sandy Cifranic read about the Alzheimer's Walk online, she decided that she wanted to participate.  Furthermore, she asked Pastor Paul James of Chapel in the Pines if the Chapel would like to participate as well.
After losing her mother to Alzheimer's several years ago, Sandy felt the need to try to help other families who had Alzheimer's patients
"Raising funds and looking for an end to this disease – that's where my heart is," Sandy said.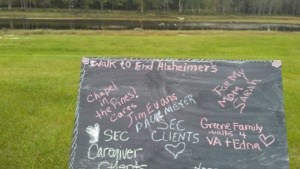 The Chapel had a goal of raising $1,500 for Alzheimer's Organization.
"We surpassed our goal tremendously," Sandy said.
In fact, the Chapel was one of the top three donators for the event.
Fourteen walkers signed up from Chapel in the Pines to participate in the walk at Aberdeen Lake.  Over 200 walkers joined in the event from various parts of Moore County.
The County had a goal for raising $43,000 for the cause, which Sandy is sure they did.  Funds are still being accounted for, and the total is currently at about $42,500.
This was the first walk that Sandy has ever participated in.  She also took the role of Team Captain for the Chapel in the Pines group.
Sandy hopes to become a volunteer for the Alzheimer's Organization throughout the year, and she looks forward to participating in the Alzheimer's Walk again next year.
To learn more about the Alzheimer's Organization or how to donate, please visit www.alz.org.
"They are always accepting donations," Sandy said.