Camp Blue Skies Foundation – which offers camps to adults with developmental disabilities – is introducing a signature cookie to celebrate its 10th Anniversary.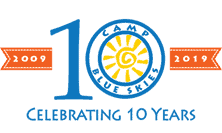 Created by Elise and Carolyn Sampson ofReason To Bake Cookies, Lemon Blueberry Oatmeal is the Official Cookie of Camp Blue Skies and is gluten-free, non-GMO and all-natural. A portion of the proceeds from the cookie will benefit Camp Blue Skies Foundation to help provide camps for adults – 21 and older – with developmental disabilities, ranging from Down syndrome to autism, in Georgia, North Carolina, and South Carolina.
"We appreciate Reason To Bake for teaming up with us in creating this great cookie and for their amazing support over the years. I can't think of a more delicious tribute to ten years of Camp Blue Skies," said Dick Sesler, founder of Camp Blue Skies. "Reason To Bake's Lemon Blueberry Oatmeal Cookie will help make sure camp is available to more adults with developmental disabilities, provide respite to families and caregivers, and change the lives of our volunteers."
A box of six cookies is $10 on CampBlueSkies.org and ReasonToBake.com. The cookies will also be available soon at select retailers (price may vary):
· Black Mountain, N.C. – Half Moon Market
· Brevard, N.C. – Food Matters Market, Pisgah Coffee Roasters, Whistlestop Market
· Cashiers, N.C. – Cashiers Farmer's Market
· Hendersonville, N.C. – Black Bear Coffee Shop and Appalachian Coffee Company
· Lake Toxaway, N.C. – Historic Toxaway Market
· Wheaton, Ill. – My Half of the Sky Coffee Shop
· Missouri – Kaldi's Coffee Company at 17 locations
· Franklin, Tenn. – Our Thrift Store and Fork of the South
· Lewisburg, W.Va. – Bella The Corner Gourmet
"We think the world of Camp Blue Skies and are extremely honored to create a cookie to commemorate their tenth anniversary," said Elise Sampson, co-founder of Reason to Bake. "We have seen firsthand how Camp Blue Skies can transform the lives of the campers, parents, caregivers, volunteers and supporters. It is so meaningful knowing that each box of cookies sold will directly impact this great organization and the amazing individuals they serve."
Carolyn Sampson, who has Down syndrome, began attending camp four years ago after Camp Blue Skies connected with Reason To Bake via Twitter. Elise and Carolyn Sampson immediately became ambassadors for Camp Blue Skies and often donate cookies for dessert during camp sessions and to serve during fundraisers. Besides being a winning flavor combination, the lemon blueberry is a hat-tip to Camp Blue Skies' signature blue and yellow colors.
About Camp Blue Skies Foundation
Founded in 2009, Camp Blue Skies Foundation is a 501(c)(3) non-profit organization based in Charlotte, N.C. It offers campsto adults (21 and older) with developmental disabilities, enhancing their lives through recreation, socialization and life skills education. Camps are held in the spring and fall in Georgia, North Carolina, and South Carolina and bring in campers from all around the United States. Camp Blue Skies focuses on the camper's physical, mental and emotional well-being through continued development of a healthy lifestyle and positive social skills. For more information, visit CampBlueSkies.org.
About Reason To Bake
Reason to Bake is an artisan small-batch bakery in the North Carolina Appalachian Mountains, specializing in gluten-free, all-natural cookies that are freshly made from scratch and available to ship around the country. Its mission is to provide delicious baked goods for a gluten-free lifestyle while growing a successful company that hires and trains intellectually disabled adults. It creates an environment in which there are no limits to what anyone can learn and accomplish. For more information, visit ReasonToBake.com.