By Mary Moore
Staff Writer
Last month's debut of Miscellany Marketplace at The Crossroads made its mark on the Moore County art scene. Charity Blanchard's decision to depart from her fan-favorite antique store, BougieRedneck, seems to have paid off.
Blanchard opened the West End business five years ago with her husband Stephen Blanchard, leaving behind a career as a school teacher.
Though Stephen still runs the property's signature live auctions, the rest of the operation shut its doors several months ago for a dramatic remodeling.
Whimsical sheds that once served as showrooms for various antique, vintage, and repurposed craft vendors were converted into workshops.
The building that housed BougieRedneck is now a gallery for local artist Amy Smith. An outdoor community area with tables serves as a gathering spot for creatives to share meals and socialize.
Once every month, there will be an open-air and open-studio event called the Miscellany Marketplace, where artists from The Crossroads can hawk their work alongside various vendors invited to participate. The first event took off without a hitch, and despite some rain, vendors were pleased with the turnout.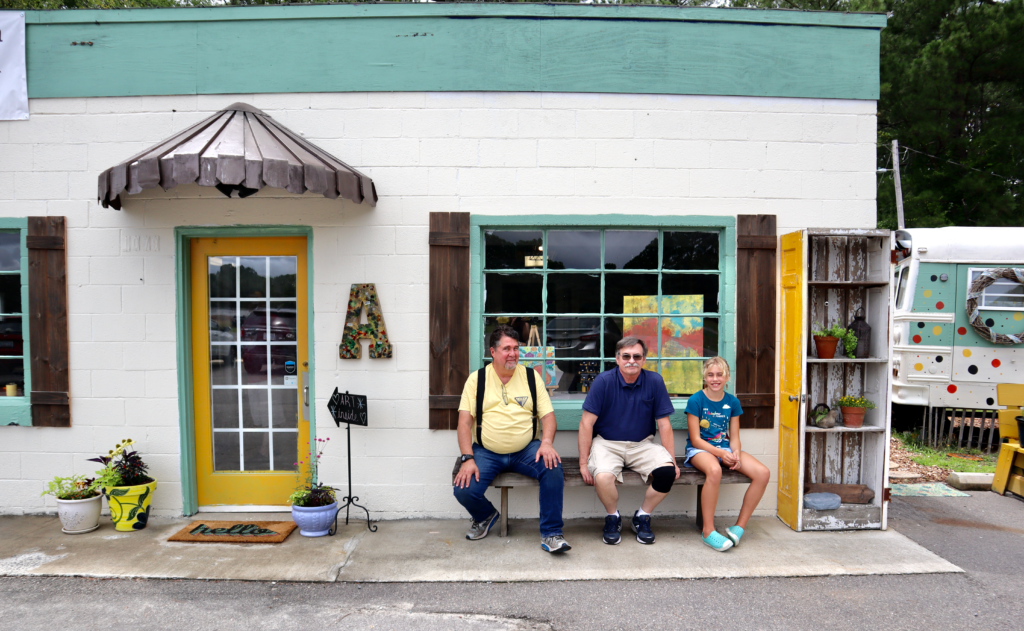 The original BougieRedneck brand had its own display space in one of the workshop areas, filled with a collection of old finds curated in partnership with the vintage brand Lauren & Riley.
The ladies of Maverick studios laid out an array of their signature dish towels, cards and notebooks printed with minimalist, nature-themed designs. Artist Amy Smith is pleased with her new gallery space, which is less of an I-spy paradise than it used to be, but still very colorful.
The House of O'Delle and Luella's food truck kept shoppers fed with their unique spin on Southern comfort foods.
And in a prime selling spot up front, nine-year-old Emma Rae of Country Girl Crafts was hard at work selling beaded bracelets and wax art to fund her dream of buying a golf cart.
Many of the same booths, and also some fresh additions, will be back on for round two of Miscellany Marketplace on Sept 4 from 10 a.m. to 4 p.m. Admission is free.
The Crossroads is located at 1093 Doubs Chapel Rd West End, 27376 NC.
For information about future markets, visit the The Crossroads Facebook page.
Contact Mary Moore at (910) 693-2462 or mmoore@thepilot.com.