BY MAGGIE BEAMGUARD, Insider Editor
A tour of local gardens sponsored by the Seven Lakes Garden Club on June 11 was a treat for all the senses.
Jasmine wafted through the air; water features gurgled; children played in their playhouse; a chicken-wire ghost hovered; and a swan swam gracefully.
Each of the featured private home gardens were as diverse as their creators. From the whimsical fairy gardens of Susie Stanislawek to the pristine, sanctuary-like gardens of Ellen and Jack Stevens, garden tourists delighted in each nook, cranny and bloom.
Garden Club President Carolyn Sink said of this tour what she said she says of every tour: "Best tour ever. Beautiful gardens, fun people, perfect weather."
The Garden Tour ran from 9:30 a.m. to 12:30 p.m. and featured the Seven Lakes South homes of Mia and Sam Mendoza, Rebecca and Tim Mabe and Theresa and Pete Hessler; the Seven Lakes North homes of Terry Appen and Kameron Randall; and the Seven Lakes West homes of Ann and Mark Haut, Sharon and Gerry Tryhane, Susie Stanislawek, and Ellen and Jack Stevens.
The event culminated at the Unity Garden of West End United Methodist Church, with Greg Shelton serving as the garden host.
Starting in May, the Garden Club makes a general ask to the community for volunteers.
"Some are nominated and some we identify and simply ask. It is a big commitment on the part of the gardeners, because it is a two-day event. We do a Friday evening pre-tour for the homeowners and our volunteers, so that everyone has an opportunity to see the gardens," said Sink.
The Garden Club makes an intentional effort to create a diverse experience.
"We like to have a range of gardens that appeal to a wide range of people. From the big "wow" to the simple, all have a place in our tour," said Sink. The gardens expressed each gardener's personality and their various inspirations.
Mia and Sam Mendoza created an outdoor space where their four children could play and use their imaginations. They are a military family, and even though their own roots may be plucked up and moved in the future, they wanted to plant some firm roots to give the family a sense of home.
"I don't want my life to feel like we're always ready to leave," said Mia Mendoza who learned to garden from her father and grandfather. She still grows her grandfather's heirloom zebra tomatoes.
Novice gardener Kameron Randall was inspired just a year ago to create his water garden by his neighbor.
"My neighbor's porch has a little fountain. I would go sit with her, and I was like 'Dang, that's nice. I'd really like that for my place.' And I just envisioned it sitting on my back porch one day."
Randall, who renovates houses for a living, discovered his green thumb about three years ago when he started buying house plants. But he'd never tried to do anything like this garden. He educated himself through YouTube videos, but he also solicited advice from more experienced gardeners in the garden club to create his two-pond garden featuring a waterfall, footbridge and koi. He feels satisfaction in seeing his idea come to life.
Experienced gardeners on the tour know that it takes patience and trial and error to create a garden.
Stanislawek gardened with her family as a child, and her current garden has been 30 years in the making. "The garden has evolved. It's pretty big," she said of the paths and garden rooms that comprise the entirety of her back yard, "but it started out in sections. What I try to do is what gives me joy. And this gives me joy and peace." The garden became especially important to her while caring for her husband in his later years. "The time I spent out there is what saved my sanity."
With three hammocks to choose from among Stanislawek's colorful garden adorned with statues, wind chimes and fairy homes, there are plenty of spots from which to enjoy the fruits of her labors.
Another oasis has been created by Jack and Ellen Stevens, who have shared the joys of gardening for 46 years. When they first bought their property, they started from scratch, ripping out the Leyland Cypress covering the yard and gutting the interior of the house. Located on Lake Auman, they have spent about 18 years refining the space.
One of the most impressive features of the Stevens' garden is the 100-foot dry river bed they built by hand. Inspired by a similar feature at the Sandhills Botanical Gardens and naturally occurring river beds, the Stevenses hauled in nine tons of rock and placed it all by hand. It was a project that took a lot of research, thought, and energy.
Another special feature sits on the point of their property, which juts into Lake Auman. There they added a jasmine-covered pergola and firepit for their daughter's wedding.
There is a certain spirituality to the practice of gardening for Stevens who sees tending the earth that has been here for millions of years for the short time we are here as a responsibility. "Gardening is our passion. Our philosophy is, if it's good enough to have, it's good enough to take care of. And we certainly enjoy sharing it with people who appreciate it."
There was certainly a lot of passion for gardening among those who participated in the tour. Visitors asked for advice from the gardeners on topics from deer to soil pH.
Stanislawek's advice for new gardeners is to start slow and to be patient. It doesn't need to be big to be marvelous.
"You just start little by little," she said, "don't expect everything to happen at once. You have to be patient and do what you enjoy."
This year, the Garden Club raised approximately $700 for the Unity Garden and the Village Beautification Committee through donations.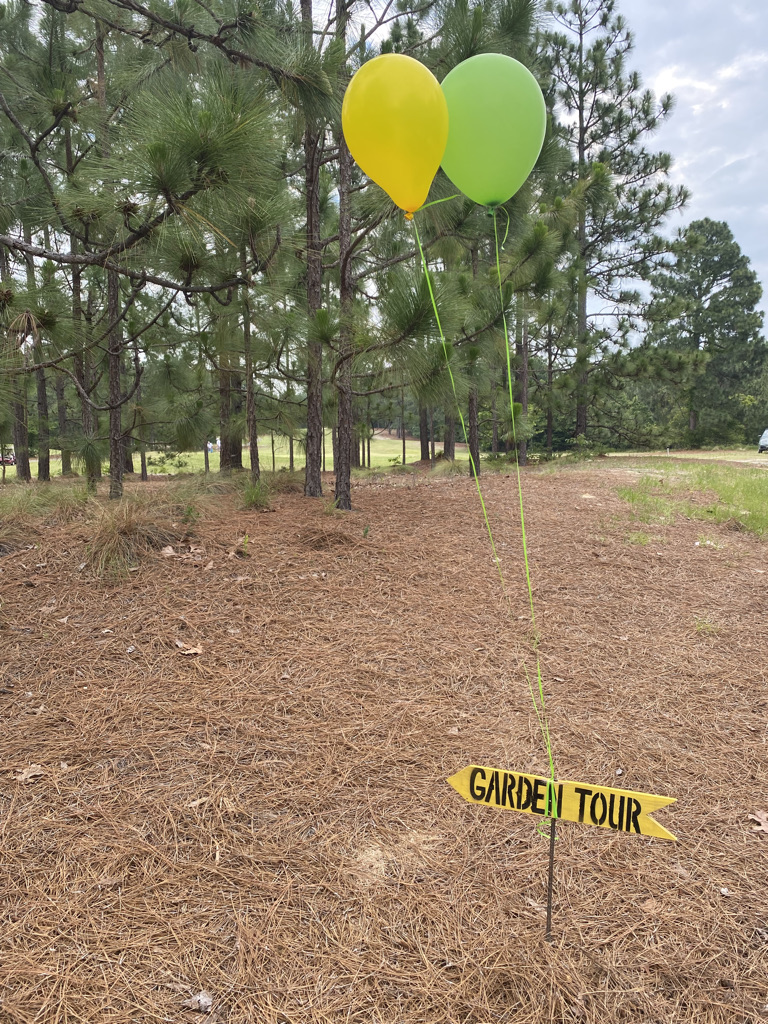 Contact Maggie Beamguard at maggie@thepilot.com.