BY MAGGIE BEAMGUARD
Insider Editor
A veritable platoon of purple flags waved along Seven Lakes Drive in advance of the longest day of the year. The flags heralded a week-long palooza of fundraising events for the Alzheimer's Association.
This was the second year in a row that local residents Katie Carpenter and Canyn Russell, co-owners of the Seven Lakes Racquet Club, brought the Association's annual national fundraiser, "The Longest Day," to Moore County.
The Alzheimer's Association has two signature fundraisers: an annual walk and the Longest Day initiative.
"The longest day of the year is June 21, give or take a day. So their idea is to raise money by doing anything if you like. If you like to play backgammon, use that. If you cut hair, use that," said Carpenter.
The flexibility to customize your own fundraising efforts appealed to Carpenter, who lost her mother to Alzheimer's in 2017.
"This initiative hit home because we do tennis and pickleball every day," said Carpenter. "So it's super easy for us to make it into a fundraiser. I think it was a brilliant idea."
The date for the event is set near the summer solstice and is complemented by the slogan: "The day with the most light is the day we fight."
It's a fight in which Carpenter has both taken and thrown a few punches. After losing her father to a different battle of cancer, she became the primary caregiver for her mother, Linda Carpenter. It was an all-consuming task.
When her mom died, Carpenter remembers one thought as plain as day.
"I can remember saying 'Okay, now what do I do?' Because you're in that caregiver role every waking moment asking "what does my mom need? What am I going to have to do? And on and on. So once she passed, I felt a bit of panic. Because that was what my life was."
That sense of restlessness motivated Carpenter to continue the fight. And this time she was going to do some knocking down.
"The only way I know how to honor her is to fight for people that can't fight for themselves. My dad had cancer, and he knew what his fight was. My mom never knew what her fight was. And so it was easy for me to jump in and raise money," said Carpenter. "I do think Alzheimer's, no pun intended, is kind of the forgotten disease when it comes to fundraising and getting money for research and caregiver support."
Russell, Carpenter's partner, supported her in the hardest days as Carpenter emerged from her mom's fight with a resolve to keep going.
"Katie began to share her story with anybody. And she would have people who had loved ones suffering come to her and ask her for advice and suggestions. And she was just so helpful," said Russell. "And I think that's what she sensed from all of this is: this has been given to you as a gift of sorts, and you have this ability to help other people share."
The idea for starting a fundraiser was already on Carpenter's mind when her mother died. But it wasn't until she and Russell bought the Racquet Club, the same club where her mom took her to practice as a child, that she would be ready. When the Longest Day initiative came across her radar, Carpenter's plans took shape.
After an initial pandemic delay in 2020, Carpenter and Russell held their first Longest Day event last year. They "rented" their pickleball and tennis courts with the goal of filling the courts with players from sunup to sun down.
The results were tremendous.
"We raised $15,000, and to me, that is a lot of money from this small community."
The Alzheimer's Association thought so too. The Seven Lakes Racquet Club was recognized by the Association as one of the top 50 fundraising groups in the world. Following the inaugural event's success, Carpenter and Russell began serving as co-chairs of the Association's North Carolina chapter.
In another grand success, they surpassed the amount raised last year by double. With money still coming in, the amount comes to $30,000.
Carpenter is quick to share credit. "It's just amazing that this community is doing it. We may be the mouthpiece and the center of it, but it's everybody contributing, whether $5 or whether $100," said Carpenter.
She also praises her team. "We probably get more attention to us than is deserved, because we have an amazing membership and amazing committee and an amazing community around us."
She is also grateful for the generosity of many sponsors, including three local restaurants that let them put flyers on their tables leading up to the event.
In order to reach more people, Carpenter, Russell and the planning team knew the event would need to evolve.
"We wanted to reach out to the community. And that's how it came to be a week of activities. Because if we do s'mores at Sequoia Beach, well those people probably aren't gonna come and play tennis and pickleball. So it's a whole different group of people that we can get in front of that we can talk to about Alzheimer's and our story and ultimately hope they donate and we can raise more and more money."
They dubbed the expanded event "The Power for Purple Palooza." And it was. There was something for everybody, including a murder mystery party at Seven Lakes Country Club, a ladies golf outing, an outdoor movie night and events sponsored by some local favorite restaurants. It was hard to go anywhere in Seven Lakes without seeing purple or finding an opportunity to learn and to give.
The Power for Purple Palooza culminated in a 5K Fun Run and Tennis/Pickleball "Longest Day" event on June 18, along with a silent auction, inflatables, food trucks, live music and a cornhole tournament.
Carpenter's pain of losing her mom to this cruel disease is still fresh, but planning and organizing this event channels that loss into something good.
Carpenter thinks her mother would be proud of what they have done. Her mother supported her tennis playing and took her to many tournaments. And through all that travel, the two developed a special closeness.
"It was one of the things she loved, and even when I got older she said 'I really miss taking you to tournaments,'" said Carpenter.
That time spent together was valuable. And it's advice Carpenter gives to people who are struggling with a loved one who has Alzheimer's.
"It's hard spending time with them, but as hard as it was, I would go back there in an instant to that hard time to have another five minutes with her," she said. "Even with all the awfulness of the disease, I still had some amazing memories of her as she was walking down that path. You don't want to forget the people that are suffering with it just because they can't remember.
"Nobody wants this, right? They deserve to be loved. They deserve to be respected. They deserve the attention."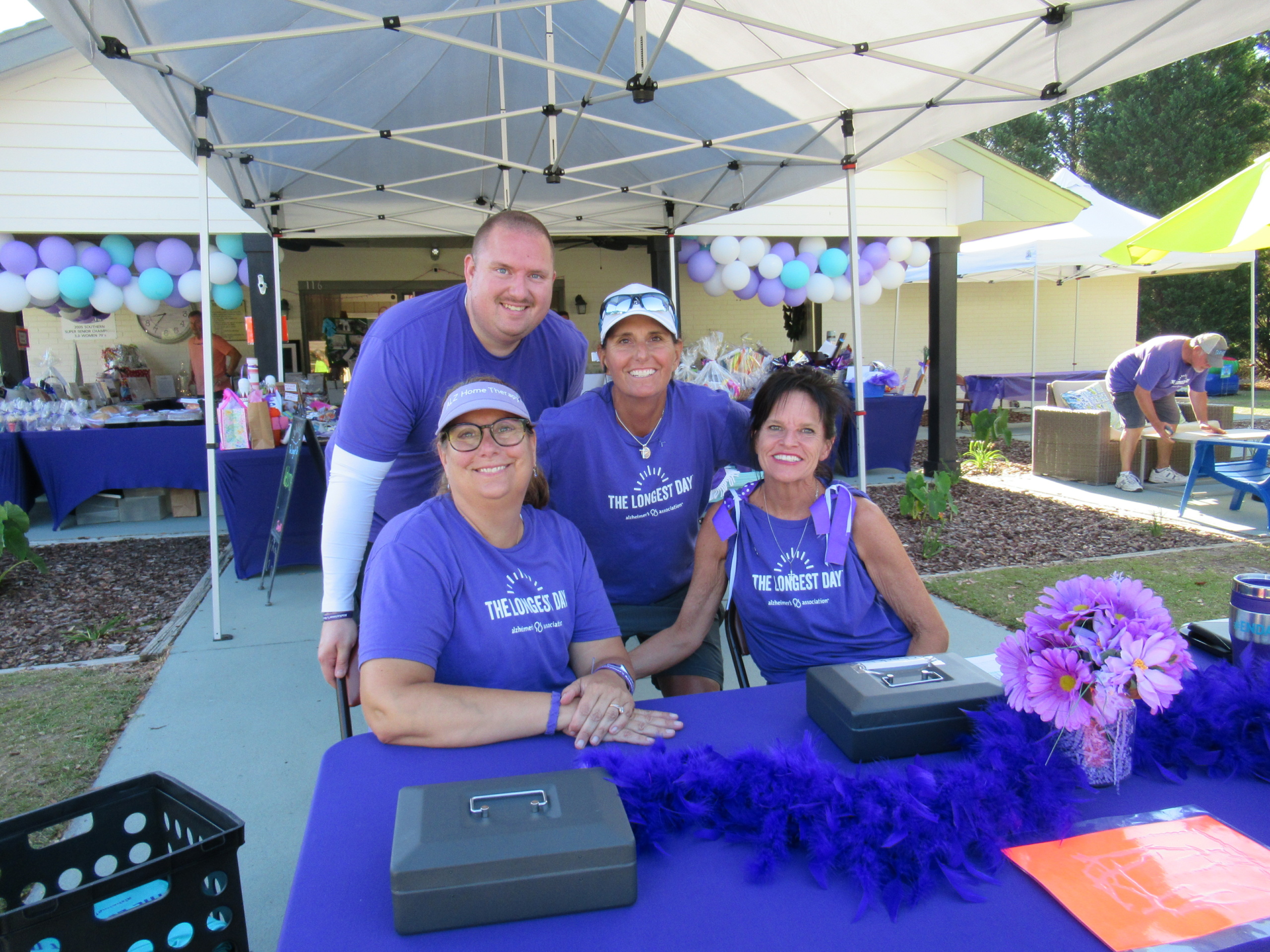 For more information about Alzheimer's or to donate, visit https://www.alz.org/.
Contact Maggie Beamguard at (910) 693-2496 or maggie@thepilot.com.