BY LAURA DOUGLASS, Staff Writer
Bobby Teague is partial to green, "meadow green" to be more specific. Standing next to his grass-colored 1952 Ford F1 truck, he recalls taking his future wife, Patricia, out on their first date in this vintage classic. It was 1980, two years after he'd acquired his grandfather's truck.
On warm summer nights, Bobby and Patricia still head out in this family heirloom. Motoring down U.S. 1, they'll snag a prime parking spot right out front at Mac's Breakfast Anytime restaurant for monthly cruise-in event sponsored by the Sandhills Classic Street Rod Association.
There's music, raffles, food and lots of folks casually milling about.
"Guys like cars. The cruise-in is a chance to talk cars," says Teague, who serves as president of the nonprofit club.
As a child, growing up in Silk Hope in Chatham County, Teague says he built model cars. Life, marriage and, finally, retirement, he now has more time — and funding — for his hobby. "I've been piddling for years."
At home, he also keeps a 1964 Falcon "that needs some work" and a 1938 truck.
****
Another relic of history is parked nearby. Tom Walker leans against his bright red 1978 Red Dodge Adventure, which he purchased three years ago.
Like Teague, he's been a member of the Sandhills Classic Street Rod Association (or SCSRA, for short) for more than a decade. Each summer, the SCSRA car show is held in conjunction with the Carthage Buggy Fest. Club members, including Walker, also provided vehicles for the backdrop of a recent "Grease!"-inspired photoshoot featuring young actors from Imagine Youth Theater.
"When I joined the club I didn't own a classic car," he says. "Then I bought a 1973 Plymouth Duster and I was hooked."
Walker enjoys tinkering with classic cars and trucks, regularly swapping his acquisitions out after about three years, "I just like to have something different."
Steps away, a deejay is spinning tunes to keep the crowd entertained and other SCSRA members are busy collecting canned goods: The July cruise-in benefited the food bank in Carthage. The SCSRA also supports Sandhills Teen Challenge and several other local charities.
"If we're not hosting the cruise-in, we are usually participating in other car shows and events," Walker says. "We get a lot of fun out of it."
****
A 1971 Monte Carlo with a modified convertible top rolls into the parking lot. Jerrold Smith is at the wheel. A longtime SCSRA member, he's attained legendary status among this crowd.
A loud chorus of welcoming words greets his arrival.
Smith guesses he owns around 28 classic vehicles, "it may be more than that." He prefers ragtops and owns at least eight convertibles.
He buys them cheap and restores them piece-by-piece.
A prized favorite is his 1957 Bel Air. More rust than automobile when Smith purchased it for $150, it took five years of hard work to return it to its former glory.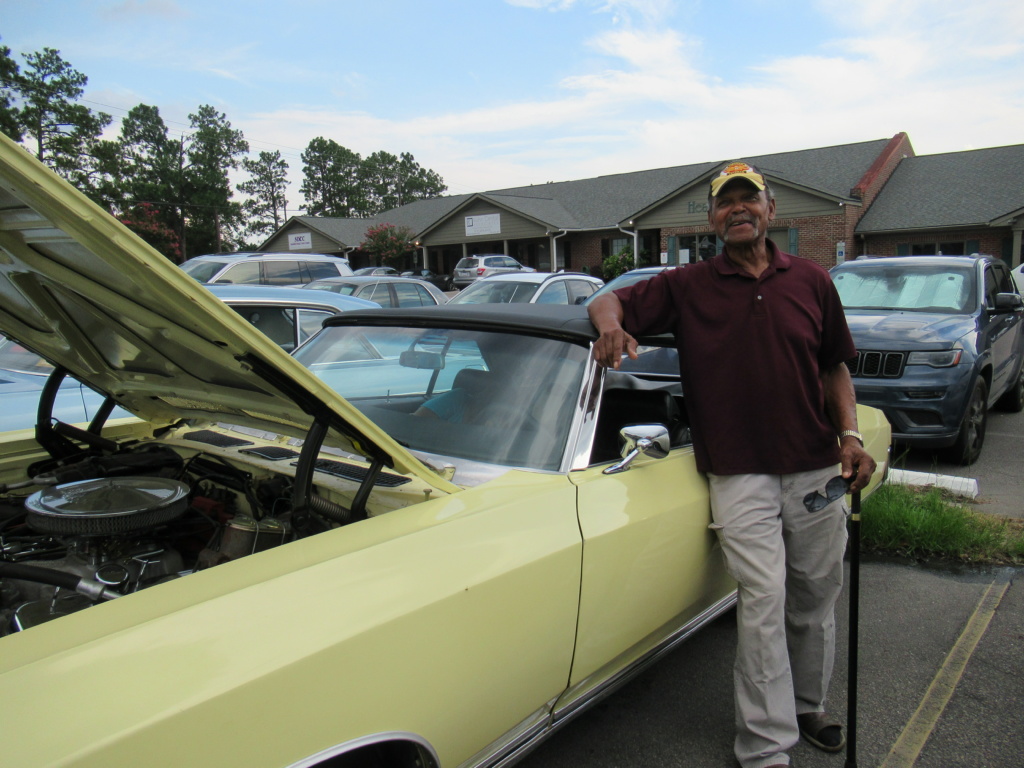 Smith says he began restoring classic cars in his early 20's, after serving in Vietnam.
"I needed something to do. There have been times I stayed up all night long doing this."
Propping up the hood of his yellow Monte Carlo convertible, the better to show off his handiwork, he figures this particular car has been in his collection for 20 years.
****
Lisa Dixon is the new kid on this block. A real estate broker from Raeford, the young mom purchased a 1971 Volkswagon bus three months ago. She's since become a regular a cruise-ins.
"I'm obsessed with it," she confesses. "I drive that bugger every day!"
It was a nostalgic purchase. Dixon's very first car was a 1968 VW bus.
"Then I got married, had kids," she trails off.
A few years back she started saving, "and saving and saving," she exclaims, until her piggy bank was big enough to bankroll her dream machine.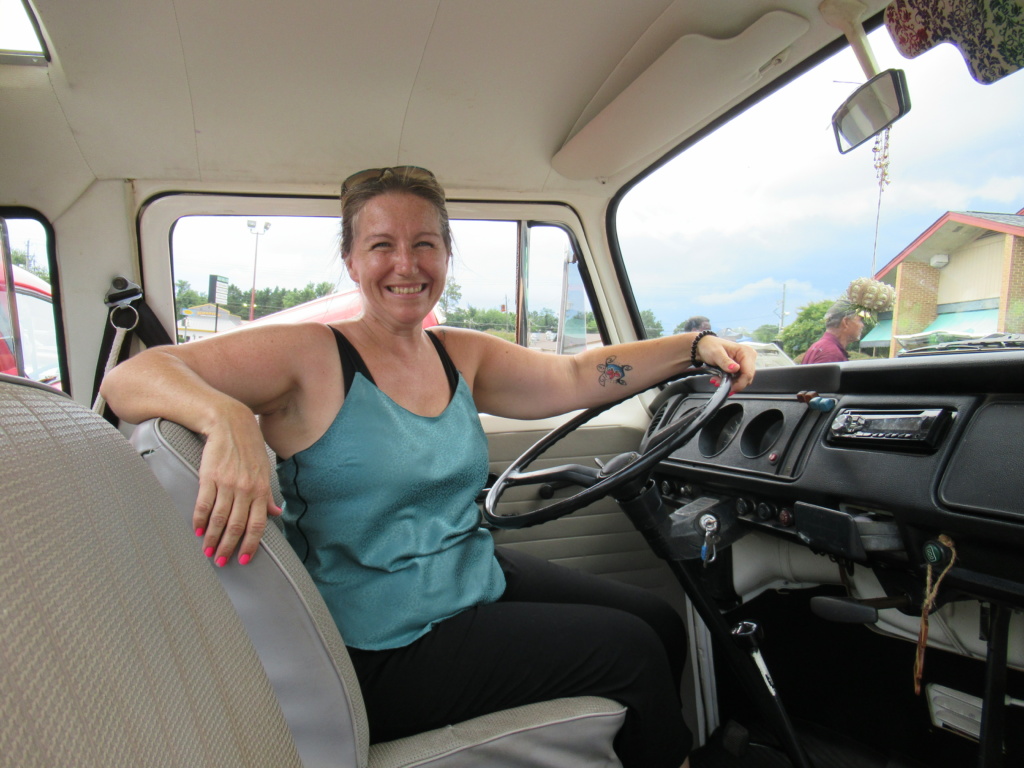 "Lucy," as she's dubbed her ride, was listed for sale in Long Beach, Calif. She was the deluxe model with a retractable sunroof.
Dixon knew she had to have it.
A friend in California helped arrange for "Lucy" to be shipped to the East Coast.
"I'm just a driving fanatic now," Dixon says, and has even learned to change the oil and spark plugs on her new pal. "Everyone sees me coming and they wave and throw me peace signs."
Contact Laura Douglass at (910) 693-2475 or laura@thepilot.com.