Purchase a BBQ plate to support Seven Lakes resident Tonya Godwin!
In 2005, Godwin was diagnosed with Multiple Sclerosis [MS], an auto-immune disease that attacks the nervous system.  Godwin was diagnosed with Primary-Progressive MS – a more aggressive form of the disease.
With MS, the covering of the nerves is slowly eaten away.  This process can affect mobility, vision, coordination and other functions.  Patients diagnosed with this disease may even make a patient sensitive to temperatures.  "The nerves are like electric wire," Godwin said.  "If you eat the coating away, there can be a short circuit.  This short circuit in the nerves causes the muscles to react."
Since her diagnosis, Godwin has followed traditional protocol to maintain the disease.  Over the past three years, she realized her symptoms worsened and traditional methods were no longer working.
Godwin researched a method known for lessening the symptoms of MS – stem cell therapy.  Stem cell therapy is a procedure in which stem cells are removed from one's body and returned in a way which repairs damages in the body.
"Stem cells are like transformers of the body," Godwin said.  "They can be used in the body to repair materials."
Godwin connected with a doctor in Canada and learned the details of the procedure.  Although the news of stem cell therapy excited her, she learned that clinical trials were still underway.  As a result, it was difficult to find a clinic in the U.S. that would be able to accept her for treatment.
Multiple clinics performing trials in the U.S. were unable to accept her as a patient due to how much the disease had progressed.
Godwin finally found a private clinic performing trials in San Diego, California.  She met their requirements to be a patient.  During June of this year, she sent in her application.  In August, she was accepted as a patient.
The private clinic hopes to perfect the treatment and present information from the trials to the FDA in order to have stem cell therapy approved in the United States.
Rodney, Tonya's husband, accompanied her to San Diego for the procedure.
"I had nothing to lose," she said.  "They used liposuction to remove fat tissue.  [Stem cells were extracted from the fat, and] boosted with plasma which has growth hormones in it.  [Then] they reintroduced the stem cells into the nervous system.  The stem cells find bad areas to replicate and repair them."
"It's using one's own body to heal itself," she continued.  "This way the body won't reject the stem cells because they are a product of itself."
After ten years with MS, Godwin could no longer walk.  There was a stiffness in her lower body, along with a dull pain and fatigue.
Now, less than a week after the procedure, she is already noticing improvement.  She is sleeping better, has more energy, better range of motion with her arms, and is able to transfer to and from her wheelchair with more ease.  She was even able to pick up their small family dog, Jazz – a task that was impossible only a week ago.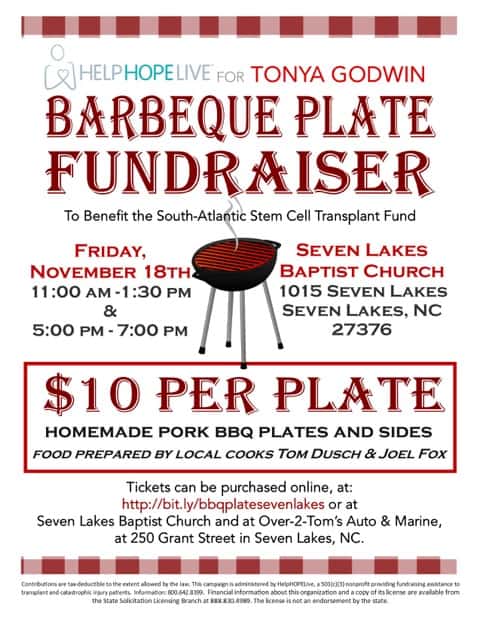 "It can take six months for the full effect because cells have to replicate," Godwin said.  "It takes time.  There's ten years of MS damage.  If this first treatment goes well, we expect additional treatments."
A BBQ fundraiser will take place on Friday, November 18th to support the Godwins and help cover the cost of the procedure.  The event will be held at Seven Lakes Baptist Church and is sponsored by Over-2-Tom's Auto & Marine.   Local cooks, Joel Fox and Tom Dusch will prepare the meal.
"Tonya and I have been friends for years," said Lori Dusch from Over-2-Tom's Auto & Marine.  "We went to her house every fourth of July.  One year she had a cane.  The next, a walker.  Then she was in a wheelchair."
When Rodney explained the stem cell therapy to them, Dusch came up with the idea of sponsoring a BBQ.
"I wanted to do more to help to let them know how much we care," Dusch continued.
"I've been blown away by the support of everyone," she said.  "It's very humbling. . . Thank you to everyone who is supportive."
To support Tonya Godwin, please pre-order BBQ plates by November 16th at Seven Lakes Baptist Church or Over-2-Tom's Auto & Marine.  Each plate costs $10.  Free delivery is offered to Seven Lakes for those who have pre-ordered plates.  To purchase tickets online, CLICK HERE.
For more information or to donate to the cause, CLICK HERE to be transferred to Tonya Godwin's page at HelpHOPELive.org.