On November 5th, Seven Lakes Baptist Church hosted a fall festival for the community which including food, games, bouncy houses, and a number of booths!
The fall festival was orchestrated by Youth Pastor Travis Bryant as well as the church's youth.  Together, church members were able to provide a family fun event for the community.
Seven Lakes Baptist Church continues to provide entertainment for the community as they will be hosting a concert on Friday, November 11th for 6th – 12th graders.  The church invites students to come for games, prizes, and music featuring the band "About A Mile."  To view more details on The Seven Lakes Insider Calendar, CLICK HERE.
The booths at the event included the following.
Elyse Ruiter is an independent consultant for Younique for a year.  Located in Seven Lakes, she enjoys sharing Younique's nature-based allergy tested makeup and skin care products.  Not only are she and her team able to work from home, but they also encourage personal growth.  "It's fun," Ruiter said.  "I get to work from home and choose my income."  To view and purchase Younique products, host a Younique Party, or join Ruiter's team, CLICK HERE.
Erin King has been an independent consultant for Scentsy for about two months.  With Scentsy, King is able to inform the community about flameless candles, a way to get the scent of your favorite candle without the concern of an open flame.  Scentsy provides wax warmer plug-ins as well as a variety of scents.  King is located in Seven Lakes and is currently raising donations to provide children at Moore County Department of Social Services with free Sentsy Buddy Clips, a stuffed animal with a Scentsy aroma.  To learn about donating or hosting a Scentsy Party, call Erin King at 910-639-0104, or email erink570@gmail.com.  CLICK HERE to view her Facebook page or CLICK HERE to view Scentsy products.
Terra Jones has been an independant consultant for Norwex for about two months.  With three boys easily making a messy home, Jones was excited to find a chemical free cleaning solution with Norwex.  She was first introduced to the cleaner through a family member.  After being satisfied with the products for several years, Jones decided to inform the Seven Lakes community of this exciting cleaner.  To learn more about Norwex, email Terra Jones at TerraLJones@gmail.com.  To view products or host a Norwex Party, CLICK HERE.
Tara Bryant has been an independent consultant with LuLaRoe for about four months.  With LuLaRoe, Bryant is able to share her personal clothing style with the Seven Lakes community.  After selecting an assortment of beautiful clothing from LuLaRoe, she organizes the clothing on racks and prepares to showcase her favorite styles.  To contact Tara Bryant or ask about hosting a LuLaRoe Party, email Lularoetarabryant@gmail.com.  To view her Facebook Page, CLICK HERE.
Ginger's Country Decor was created over a year ago when Ginger Parrish decided to share her crafts with the community.  Located in Sanford, Parrish hand crafts and paints unique mason jar-themed home decor from scratch, working with the help of her future daughter-in-law, Stephanie Perry.  To contact Parrish, email GingerParrish@GingersCountryDecor.com.  CLICK HERE to visit her website at www.GingersCountryDecor.com.
Em's Creations was created by Emily Hardy over a year ago.  Hardy hand crafts a variety of custom-made wreaths for every season.  Em's Creations is located in Cameron, NC.  To contact Em's Creations, call 910-690-9435 or email emscreations2015@gmail.com.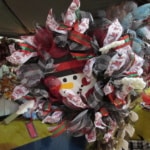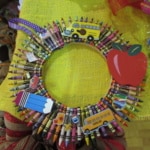 Karen Killette and her daughter, Kyrie Wright, have been crocheting for a good portion of their lives and decided to take their crocheting on the road about three years ago when they created Killette Krafts.  Killette Krafts is located in Broadway, NC.  Their creations include hats, soaps, and more.  To learn more about Killette Krafts or to follow their facebook page, CLICK HERE.