Want to tame your two left feet for prom or rehearse a wedding dance for the big day? "Walk in and dance out" of Carolina DanceWorks with professional ballroom dance lessons!
"It's just a short trip away for a lot of fun!," owner Debbie Hasson said.
Carolina DanceWorks, formerly Fred Astaire Dance Studio, is owned by Bruce and Debbie Hasson. Debbie began dancing at the age of five and has been gliding ever since. Bruce began dancing at nineteen after being a figure skating partner. He eventually moved on to be an dance instructor at Fred Astaire Dance Studio in Beverly Hills where he met Fred Astaire himself.
Since then, Bruce and Debbie have traveled the world for competitions, winning third in the country in American Smooth ballroom dance.
The Hassons decided to settle down in the area to live in the small-town environment near family. They have been at their current location in Southern Pines for the past five years.
They recently changed the name of the company to Carolina DanceWorks in February, but they still have the same good offers.
The studio offers an introductory special for first-time students, offering "a little bit of everything at an insanely low price." This special includes three 30 minute private lessons, one group lesson, and once dance party for the low cost of $25 per person.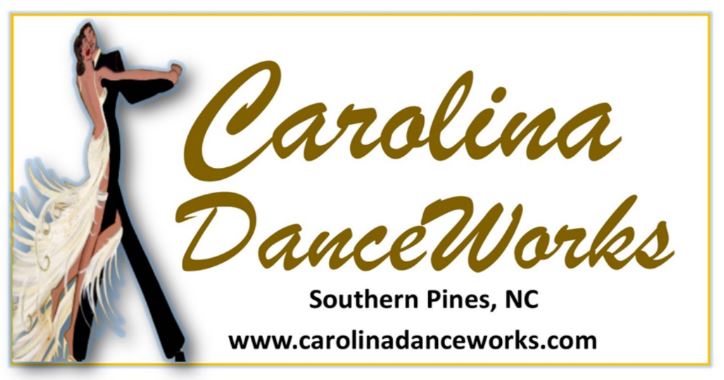 The certified instructors teach both group lessons and private lessons to couples and individuals alike.
"We teach from the ground up," Debbie said.
They teach choreographed dances and basic steps for weddings, including the couple's first dance and the father-daughter dance.
They also teach American and International style ballroom dance for those looking to enter a competition or to have fun in a social environment.
"If you have no experience, there's no mistakes," Debbie explained.
Carolina DanceWorks is open to all ages. In fact, Debbie teaches ballroom dance to high school students with her Ballroom Of Tomorrow program. Younger age groups have also participated in dance events.
"[Our] favorite part is seeing people grow," Debbie said.
Students can show off their talent at the social dance parties.
Dance parties are open to the public and take place every Friday night at the studio between 8:00 PM and 9:30 PM. These dance parties provide snacks, music, dance, and fun! All ages are welcome!
Carolina DanceWorks is located at 712 SW Broad Street in Southern Pines. To ask about the Introductory Special, call Bruce or Debbie Hasson at (910) 725-1846.