If you've driven on the back roads of Moore County, chances are you've seen the "Thank You Jesus" signs along the road. Just what is the story behind these signs? The surprising truth begins with a high schooler.
Lucas Hunt is a sixteen year old young man and high school junior in Asheboro, North Carolina. Hunt attends Hopewell Friends Church in Asheboro where he has worshiped God his entire life alongside his family.
Two years ago during the Christmas season, Hunt decided to put up some signs along the road reminding the community that "Jesus is the reason for the season." Over the holidays he put up a total of three signs.
That following summer of 2015, Hunt volunteered at a summer camp as a camp counselor where he mentored a group of twelve children throughout the week.
"I read the Bible to them and led them throughout the week. I saw them grow," Hunt said. "It lit me on fire. I wanted to talk and share [about Jesus] with more people."
At fifteen with no job or license, Hunt found a way to share his faith with the community. During Christmas of 2015 he succeeded in placing eighteen signs along the same road.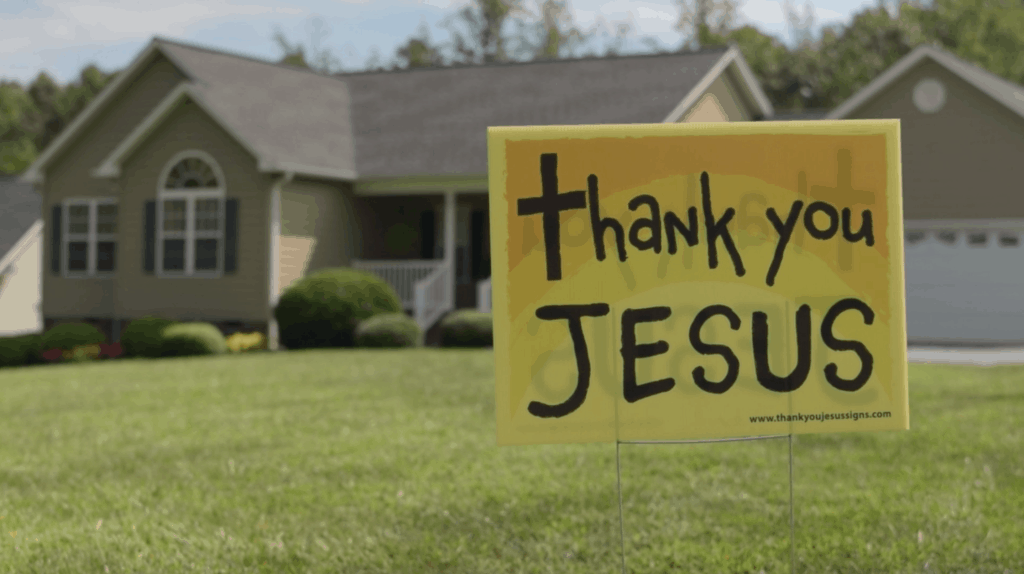 "I talked with God, [and] it was something He laid on my heart to do," he said.
Hunt decided to put up signs throughout the year – one for every holiday. A member of his church, Connie Frazier, designed the "Thank You Jesus" sign to be distributed for Easter 2016.
A goal was set to try to sell 800 signs for Easter.
"Easter came and we were still selling signs," Hunt explained. "Nobody took them down."
Even after Easter had passed, orders continued to pour in. More signs were printed to keep up with demand.
"It wasn't going to stop anytime soon," he said.
What was meant to be a holiday sign turned into much more. The signs are still being sold to this day.
"This was my way of sharing Jesus with more people than I could talk to," Hunt said.
More than 30,000 signs have been sold to date. They have been distributed to thirty-five states and four different countries.
"[We] saw God work with it and bring us through it," he said. "It was never about how many signs."
Hunt's goal with these signs was to plant seeds in people so they would get saved. Soon stories flooded in about how the signs have helped individuals in the community.
"One mother at church came up [to me] and talked about [her two sons]," Hunt said. "One was deployed in Afghanistan, and the other was battling wildfires. When people ask if she's worried, she says 'No, it's in God's hands.' Every time she saw a sign it inspired [her] to take a minute, breathe, and realized it was in God's hands."
Another woman got saved after passing several signs along the roads. She stopped at a home that had the sign in the yard and knocked on the front door, asking about the signs. The resident retrieved her Bible and the woman said the prayer of salvation.
"It's impacting and inspiring others. It's bringing Christians together," Hunt said. "That's what's impacted me the most."
The future of the "Thank You Jesus" signs continues to be prosperous and encouraging. Hunt is considering the possibility of expanding merchandise to include "Thank You Jesus" T-shirts and wristbands.
"I'm waiting to see what God says," he said.
Hunt is also making plans for his own future with plans to join the Air Force after graduating high school next year. He hopes to someday achieve the goal of becoming a Chaplin.
Though he could use sale profits for his future, Hunt decided the money could go to a better cause.
The signs are purchased online at the cost of $8 – the same amount it costs to make them. If money is raised, it is all directed to a non-profit organization to help churches promote the gospel through homeless shelters, food, banks, and soup kitchens.
"The first thing we did was hand it over to God," Hunt said.
This sixteen year old who is "wise beyond his years" never expected the signs to become so popular, but he is glad he is making a difference in the community.
"It's pretty awesome," he said. "We'll see what [God] does next."
To purchase a "Thank You Jesus" sign, visit www.thankyoujesussigns.com.  To learn more about the Thank You Jesus Mission, visit thankyoujesusmission.org.  Be sure to follow the Thank You Jesus Movement on Facebook at www.facebook.com/thankyoujesussigns.