As Grace Church gets ready to celebrate it's 5th anniversary, leaders say this milestone won't be just a celebration of the past. It is a joyful leap into the future. Grace Church Seven Lakes is the only multi-site church in the Sandhills. Seven Lakes Campus Pastor, Jimmy Coxe said that while celebrating the past is important, he wants the community to know that the church has big plans for the future. We want to be a resource and help to families in Seven Lakes and surrounding areas.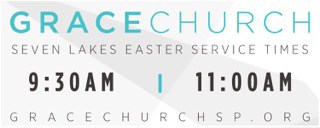 Senior Pastor Randy Thornton, who planted Grace Church in Southern Pines will be speaking at our anniversary celebration which begins at 10:15 am on Sunday, April 30th. Lunch will be provided directly after service along with special activities for the children. All are welcome.
We would also like to invite you to one of our two Easter services. They will be held on Sunday Aril 16th at 9:30 and 11.
If you have any questions, you can call the church at 910-638-5323. The church is located in the Seven Lakes Plaza.