Seven Lakes Baptist Church Held its annual Vacation Bible School (VBS) from Sunday, July 29th through Thursday, August 2nd.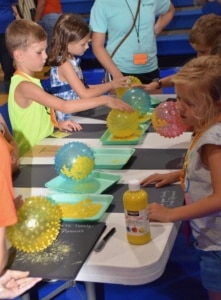 During the course of the week, more than 130 different children attended VBS with an average of about 110 children per night.
"It was about a fifty percent increase from last year," said Worship Leader Zach Jones.
Zach's wife, Terra, was in charge of organizing VBS.  They realized they would have a large outcome when their pre-signup numbers were even greater than the VBS attendance from the previous year.
"We were kind of blown away," Zach said.
Last year, the VBS children raised about $700 for the Rise Against Hunger event – an event in which volunteers and churches get together to package meals for hungry families.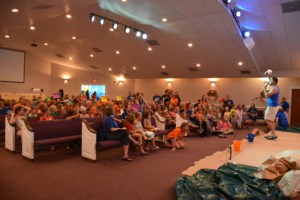 For this year's VBS, the goal was to raise $600 for Rise Against Hunger.  Once the goal was met, someone from Seven Lakes Baptist would get covered in slime as a reward.
During the course of the week, the children raised $2,055 and some change for the Rise Against Hunger event.  This is equivalent to about 7,000 meals.
"It was a huge success, and we're excited about the future," Zach said.
The Rise Against Hunger event will take place at the West End Presbyterian Church's Crawford Center located at 275 Knox Lane in West End.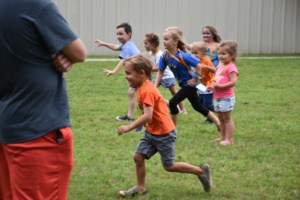 The event will take place on Saturday, September 15th beginning at 8:30AM.  It will include volunteers from multiple churches and the community.
"It's going to be a pretty big event just like last year," Zach said.
All are welcome to attend the Rise Against Hunger event.  For more information, visit RiseAgaintHungerWestEnd.com.