On Monday, November 13th, a documentary will be airing on HBO called War Dogs: A Soldier's Best Friend which was produced by Channing Tatum.
"It highlights 3 Special Ops soldiers and their bond with their K9 partners," Brenda Massimo explained via email.  "One of the soldiers, Dave Nielsen, and his wife Laura live on the North Side and just returned from Hollywood. They are amazing couple."
Dave Nielsen and his wife, Laura Miller, had the honor of traveling to Hollywood to work on the film with co-producers Channing Tatum and Deborah Scranton.
"It's a very bare-bones documentary telling the story of three dog handlers and their dogs," Nielsen said.
Nielsen started serving with the Army Rangers in 1989.  He then took a break until the tragedy of September 11th, 2001.  He decided to go back and work with Special Forces in Fort Bragg for nine years.
Nielsen served for a total of sixteen years.  His wife, Laura, served for a total of twenty-six years.
"I served nine combat rotations in these never-ending wars…," Nielsen said.  "You know, we just keep plugging away."
After Nielsen retired in 2013, he began the process of healing.
"For me, [it's about] seeking God in everything…," he said.  "[It's about] getting my life back and relationships back.  [I want] to serve and tell my story… This is figuring out life again.  It's a lot easier to talk about now."
The fact that Nielsen was able to participate in the making of the film is a testimony of just how far he's come.
"Five years ago if [I was asked] to do a documentary, I wouldn't want that," he said.  "It's a healing process."
Preparation for the documentary began about three years ago.  During that time, the producers contacted Nielsen's wife, Laura Miller – the only veterinary technician of her kind – and asked her for contacts they could work with.  One of the men she referred them to was Dave Nielsen.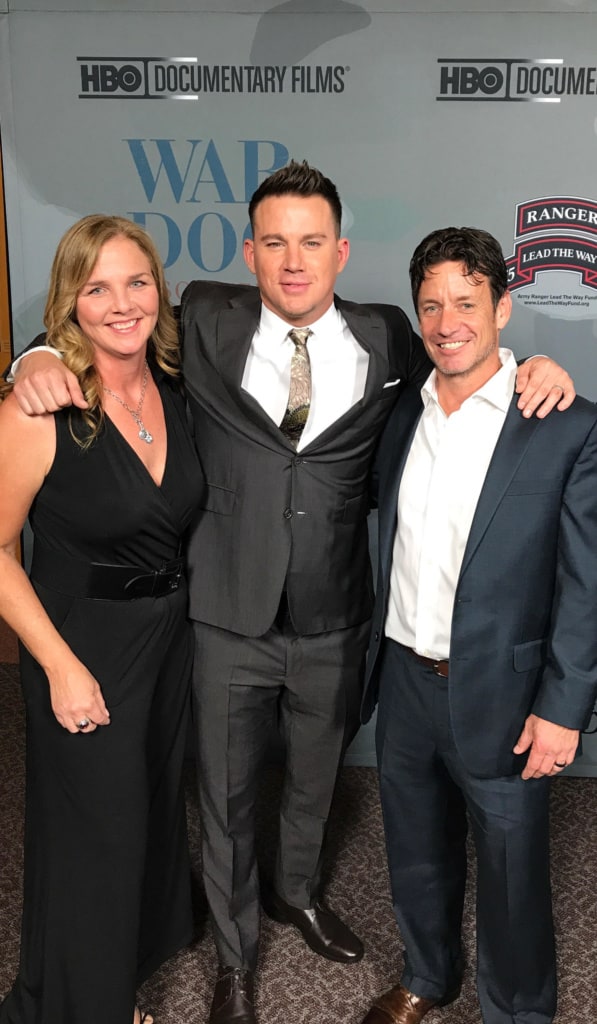 "It started with a phone conversation of, 'Hey, here's what we're doing'," Nielsen said.  "But we developed a friendship and working relationship, and they earned out trust."
Last week, they were able to enjoy the premier of the film with Channing and Jenna Tatum.
"I'm still taking it all in and figuring it out," Nielsen said.  "The last thing I expected [was] going to Hollywood and meeting the nicest people… It's just so incredible."
Nielsen and his wife were satisfied with the final product of the film.
"It's not like people get rich off of documentaries.  They care," he said.  "It just cuts right through all the politics and garbage."
Neilsen's portion of the film tells a portion of his life that took place twelve years ago when he worked with his dog, Pepper.  Neilsen revealed that his portion of the documentary is, in fact, a love story.
"It's a love story… It gives you hope," he said.  "Pepper – she showed me how to live.  She showed me selfless service; she showed me dedication.  She did all this willingly."
He explained that having a relationship with the dogs is what motivates them to do their part.
"You build a bond with them over time," he said.  "It's about love."
Nielsen hopes that those who watch the documentary realize how harsh the war conditions are for soldiers as well as what it's like having a dog in the war zone.
"I just want people to see war is hell.  It's brutal," he said.  "It's not World War II.  It's this sort of nebulous thing.  It just goes on and on, but there's hope if you look for it.  There's just love."
Today, Laura and Dave Nielsen enjoy married life in Southport and Seven Lakes North.  They have had a home on the North Side for one year.
"I couldn't ask for more," Nielsen said.
Laura is currently in charge of SOF K9 Memorial – a non-profit that was started to recognize and remember the dogs that have served.  They also assist dog handlers as they deal with the grief of losing a beloved partner.  The organization is also recognized in the film.
To learn more about SOF K9 Memorial, visit sofk9memorial.com.  Be sure to visit their Facebook page at https://www.facebook.com/SOF.K9.Memorial.