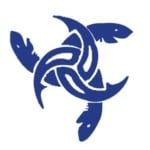 The Sandhills Sandsharks North Carolina Open Water Champs returns to Lake Echo, Seven Lakes, on June 1-2, 2018.  Open to swimmers of all ages, the races start with a 400 M Splash and Dash on Friday pm, then continue throughout the day on Saturday.
In its 22nd year, this event will feature Age Group and Open- level races, drawing an expected 700+ participants (plus their families, bringing approximately 1,500+ visitors to Moore County). This event is one of the largest amateur sporting events in Moore County.  The Military Mile race kicks off Saturday's races and targets our local Tri-athletes, Master's swimmers, and recreational swimmers of all ages—and benefits Moore County's military children, through donations to the Student to Student program.  Following the Military Mile are the 5K, 3K, and 2K races.  Over 50 of the bravest swimmers take on the Poseidon race (the 5K, 3K, and 2K)—a fantastic challenge for elite swimmers and Ironman triathletes.
Sandhills Sandsharks is a non-profit (501c) organization started 36 years ago. Dedicated to development of swimmers of all ages and abilities—and expanding aquatics programming in the Sandhills–the Sandsharks have proudly produced numerous State Champions, High School and Collegiate All-Americans and Scholastic-Swimming All-Americans. Additionally, we support Special Olympics swimmers and the Boys & Girls Club, both through programming opportunities.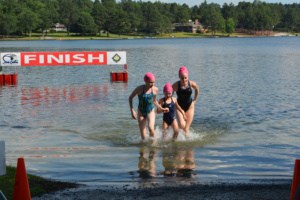 Swimmers interested in participating can do so through NC Open Water Champs, or by clicking on the June Open Water Races button at Sandshark.org.  Also, sponsorships are available for the meet; information is listed on the website.
SSS looks forward to another great year at Lake Echo!  The community of Seven Lakes North is greatly appreciated for their support to the Sandhills Sandsharks over the last two decades.