Sandhills Monument Co. is a fourth generation family-owned company founded by John Conway that has been providing "superior quality, value, and service since 1933."
"We are a Moore County business and Moore County's only monument company," said Branch Manager Amanda Keller.
The company owns its own grey granite mine in Georgia as well as certified carvers who ensure that each piece is detailed and unique.
"Our company always provides only first quality in material and production as well as skilled and licensed labor," Keller said.  "When a purchase is made from our company, customers are supporting American products and especially American workers."
Colored granite is imported from multiple locations such as Europe, India, and Africa.  Black granite is imported from China, as the United States does not have a black granite mine.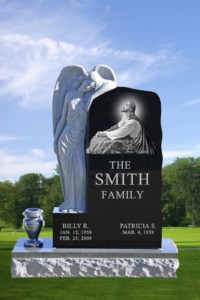 "Our skilled company employees perform the entire production process which includes hand-carving, lettering, imaging, and hand-polishing," Keller explained.  "Most other monument companies pre-order a machine-made product that is then machine-processed…  You can visibly see the difference, especially on the feathers of a carved angel."
They are also the only monument company in North Carolina that owns its own laser-etching machine.  With this machine, they can etch custom photos into the granite for a personal touch.
"I love working with my customers and helping them through one of the most difficult periods they will experience in their lives," Keller said.  "Monuments today are not our grandmother's bronze markers. We offer complete customization with photos, etchings, etc."
The company provides monuments for funerals, memorials, churches, and more.  With thousands of choices and options, Keller is able to help guide clients to their custom piece.
"I enjoy helping customers through the selection process of what can be an overwhelming challenge," Keller said.
Sandhills Monument Co. products have a lifetime guarantee and free layaway.  They also provide competitive pricing on comparable products.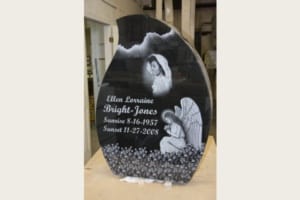 "With our free payment plans and price-beat guarantee on 'like' products, we serve every family and their needs," Keller said.
Keller serves the areas of Moore, Montgomery, Randolph, Scotland, Marlboro, and Lee Counties.
"I hope the citizens of Moore County will shop local to support a Moore County business," Keller said.
Office hours are from 8:30AM-5:00PM, but Keller is available during evenings and weekends by appointment to accommodate customer's schedules.
For more information about Sandhills Monument Co., call Amanda Keller at (910) 673-2251 or visit Go2Sandhills.com.  Clients can also email SandhillsMonument@gmail.com.  Sandhills Monument Co. is located at 136 Mode Road in West End.