During Hurricane Florence, parts of Moore County became flooded and dangerous – including areas near Seven Lakes.
As the hurricane approached, communities and emergency responders took action to prepare for the worst.
During the course of the hurricane, local fire departments ran hundreds of calls for electrical hazards, trees and wires that had fallen, fire alarm activations, water rescue, and more.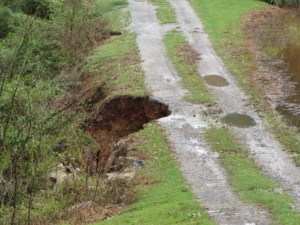 "We basically provided 24-hour staff with paid and volunteer firefighters," said West End Fire Chief Eric Stromberg.  "We prepared early in the week, so we weren't running out at the last minute getting chains and fuel."
Firefighters worked around the clock to ensure that roadways were not blocked or flooded.  Flooded roads were blocked off, and fallen trees were cut and removed from the road.  One road in Eagle Springs had been washed away completely.
A home in Eagle Springs caught fire and was completely destroyed.  The fire is believed to be due to the home's power going in and out with the storm.  Fortunately, no one was hurt.
One family was rescued in Robbins when their car became stuck in a flooded road.  Eagle Springs Fire Department and West End Fire Department came to rescue the mother, father, and 18-month old child who had been trapped in the car for over 3 hours.
"See people don't realize this… They want people to stay off of the roads for a reason," said Fire Chief Mike St. Onge of the Eagle Springs Fire Department.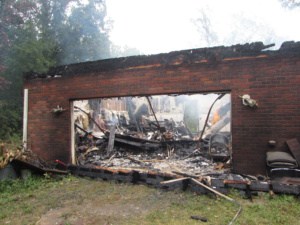 The Seven Lakes Fire Department was called out to several flooded roads in their area.
"There were multiple tree downs and flooding off Dowd Road., Mt. Carmel, and Curry Mill Road," said Fire Chief Chris King of the Seven Lakes Fire Department.
Being in communication with the community allowed the local fire departments to know what areas needed assistance.
Another thing that helped the fire departments was having food brought to them by community residents.
While some firefighters were able to stock up on snacks, the majority were unable to cook their own meals with all of the calls.
"We did a good job having snacks, but not true meals," said Chief Eric Stromberg.  "But we had some people bring up some lasagna, beef stew, and brisket.  It was awesome.  I just want to say 'thank you' to them."
The Eagle Springs Fire Department would also like to thank the community for providing meals to them during the hurricane.
In the event of another storm, the West End Fire Department encourages able individuals to come to the department to help out and be used as a resource.
Firefighters were not the only ones who were heroes during Hurricane Florence.  Individuals from the communities were also being helpful neighbors.  Some were helping to cut down trees and clear driveways.
"I would like to say 'thank you' for helping neighbors and complying and volunteering," said Mendence.
After the hurricane, Seven Lakes North & South had about 15 truckloads of yard debris hauled off.
"We're very happy about how [the hurricane] was handled," Mendence said.  "Everything went so smoothly."
One particular individual helped several different families to cut and remove debris from their yard.
"I don't know him but he was an angel," Mendence said.
To see some of the Hurricane Florence Damage that took place, CLICK HERE.