BY LAURA DOUGLASS || Seven Lakes Insider
Thirty trucks filled with new mattresses, headboards and patio furniture are headed to Moore County this week. Worth an estimated $5 million dollars, the furnishings were donated to Dreams 4 All Foundation, and will also benefit Habitat for Humanities of the NC Sandhills.
Another unnamed "Thanksgiving angel" also jumped in this week to provide these two organizations with 12,000 square feet of warehouse space, in West End, to house the furniture until it can be appropriately distributed.
"Our space is extremely limited and so is our distribution power," said Keith Moneymaker, the second-generation owner of Sweet Dreams Mattresses and More.
In 2016, Moneymaker founded Dreams 4 All to provide new or reused and sanitized mattresses to families facing economic hardship, nonprofits that house people in-need, and fire departments throughout the area. To date, Dreams 4 All has assisted more than 3,000 families and organizations.
Moneymaker said this in-kind donation — by far the largest his nonprofit has received — came through an e-commerce retailer that prefers to stay anonymous. The mattresses and some headboards will be distributed by Dreams 4 All. The remaining headboards and patio furniture will be sold at the Habitat ReStore on N.C. 5 in Aberdeen, with proceeds split between the two organizations.
"We're super excited about it," said Amie Fraley, Habitat's executive director. "We love Keith and all of our nonprofit partners. One of my favorite things is when we can all work collaboratively. I am just really grateful when someone reaches out like this so we can leverage the gift and do more."
Earlier this year, the Sandhills Habitat chapter received a $3.5 million gift, as one of 84 chapters across the globe to receive a sizable donation from Mackenzie Scott. The former wife of Amazon founder Jeff Bezos insisted that the money and the attention go directly to the "boots on the ground," so that organizations could address what was truly needed.
Habitat's model has homeowners help build their own homes alongside volunteers and pay an affordable mortgage. Through financial support, volunteering or adding a voice to support affordable housing, communities help families achieve the strength, stability and self-reliance they need to build better lives for themselves.
"We can help address affordable housing in our communities immediately and do what is best for our people in a way that has never been within our reach before," Fraley told The Pilot, during an interview in March.
Dondi Jones, Habitat ReStore manager, said this in-kind donation of new patio furniture and headboards will be on the sales floor as soon as possible.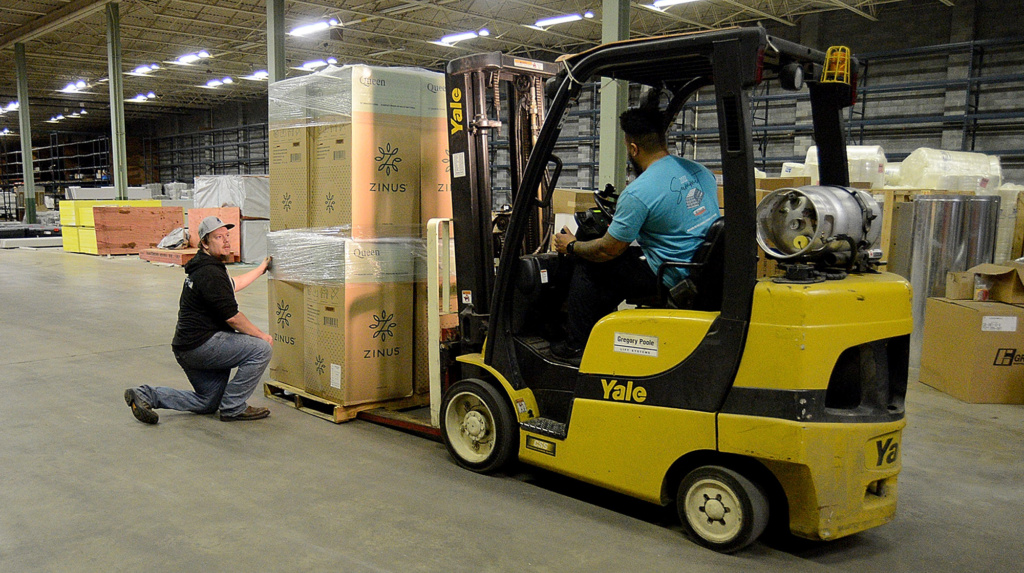 There is an extra push to have a large inventory available in time for Shop Small Saturday on Nov. 26. The Habitat ReStore is located at 2268 N.C. 5, in Aberdeen. Regular hours are 10 a.m. to 6 p.m., Tuesday through Friday; 10 a.m. to 5 p.m. on Saturday.
"There is going to be an abundance and we want to sell it as fast as possible," Jones said.
Pricing for the pieces has not been determined but Fraley said Habitat ReStore tries to keep costs low so they can sell donated items quickly.
"This is going to be a tremendous amount of inventory," Fraley said, noting she will be reaching out to other Habitat affiliates in North Carolina to further facilitate and disburse of the in-kind gift. "We all reach out to help each other, which is great. I love being on the receiving end of it."
Moneymaker anticipates this major donation could lead to additional in-kind donations.
"The donation includes over 1,000 mattresses and about 8,000 boxes coming from two distribution centers," he said. "We will receive 15 trucks from Georgia this week, and the same from South Carolina. We're expecting trucks to arrive everyday for a week."
"The biggest part of this is being able to distribute the donation. We are collectively calling on everybody, including shelters and evacuation centers, so we can distribute all of these mattresses over the next few months."
Nonprofit organizations and churches that "sleep people" in a 50- to 75-mile radius (Moore, Richmond and Lee counties, in particular) are encouraged to contact Dreams 4 All Foundation online at sweetdreamsnc.com/about-dreams4all.
Contact Laura Douglass at (910) 693-2475 or laura@thepilot.com.