BY MAGGIE BEAMGUARD
The star-filled, clear night skies over Seven Lakes are magical to behold. But locals know the place to get moonstruck is 7 Lakes Pizza Kitchen.
Beyond the signature red door, a lunar-like circle of melted mozzarella appears to have dropped out of the sky onto the island countertop. The freshly baked New York Style pizza pie catches the eye of any customer stopping by. It's instant amore.
The pizza won't last long, especially at lunch hour. Owner and chef Mike Cirillo energetically slides slices into the ovens, warming them while carrying on a friendly banter with a steady stream of regulars who don't need to place an order. He knows what they want.
For 19 years, Cirillo has served up his authentic made-from-scratch pizza and subs to a hungry Seven Lakes. With a lifetime's experience in the food and beverage industry, Cirillo jumped at the chance to open a mom-and-pop place in a sea of franchises when urged by his uncle to relocate from the northeast.
Cirillo started learning the business at age nine from his dad, also Mike, who he describes as "off the boat from Italy." "I've always been in the restaurant business," he said. "I had a fairly large place in Connecticut with a dining room and liquor. It was just a lot of work."
The carryout pizzeria on Seven Lakes Drive affords him the opportunity to do what he loves while enjoying a little freedom with his schedule. "I swore I wanted to stay in the biz, but I would never open another big place. I wanted something more casual or open kitchen."
Cirillo has cultivated an easy mid-20th century vibe reminiscent of the Dean Martin Rat Pack era. Old signs line the walls and a vintage white Volkswagen Beetle named "Herbie," as in the Love Bug, sits out front. The old-school details are the subject of many conversations with patrons.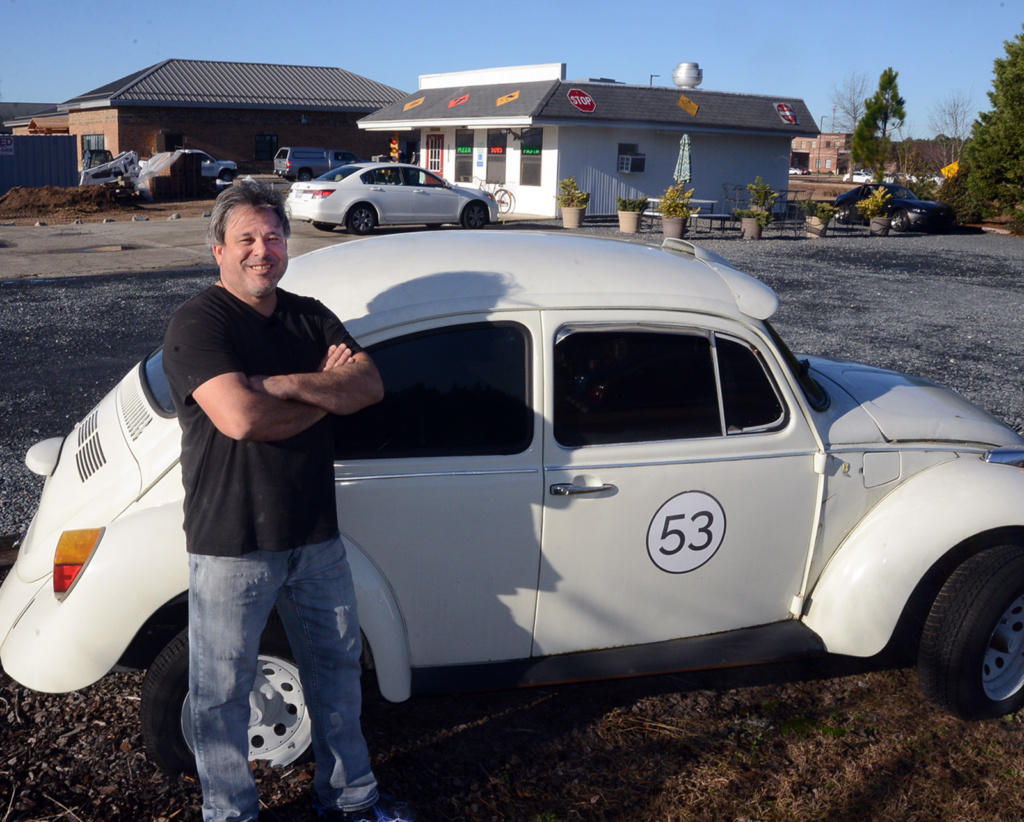 The open atmosphere is as key to the restaurant's popularity as the pepperoni, allowing Cirillo to connect with customers.
"I'm not trapped in an office. I'm not locked in a cubicle. I'm not in a room with no windows," he said. "I'm interacting with people. There's always a story. Or a good laugh. They come in and we kid around. I've got a great relationship with my people, and they just love it."
With his boisterous personality, Cirillo has created something of a local hub. Newcomers and visitors looking for an authentic slice are frequently directed by those in the know to "go see Mike." He says he finally added his name to the sign when time after time people would pop open the door and ask if he was "Mike." He wanted them to know from the street they were in the right place.
And people do come from all over to see Mike.
"I'm enthusiastic about my place because it's on the map. People travel to come see us, and that is super exciting," he says. "When people come home to visit family, we're part of their stop, and that makes you feel so good. If they're from Ohio or visiting from Jersey or California, it's important to them to make sure I'm open one of the days they're here."
They come for the genuine thing. He cooks with all fresh ingredients, shipping supplies from Piscataway, NJ, and every pizza or sub comes made-to-order with a side of Cirillo's creative passion. "You're an artist," he says. "You're preparing your portrait. I love the blank canvas of pizza, you know? You just build it to what people want." His masterpieces are built to make a person drool.
"The subs, they're fun to make too. People just love watching us cook. It's an open stove right there. They just love to watch."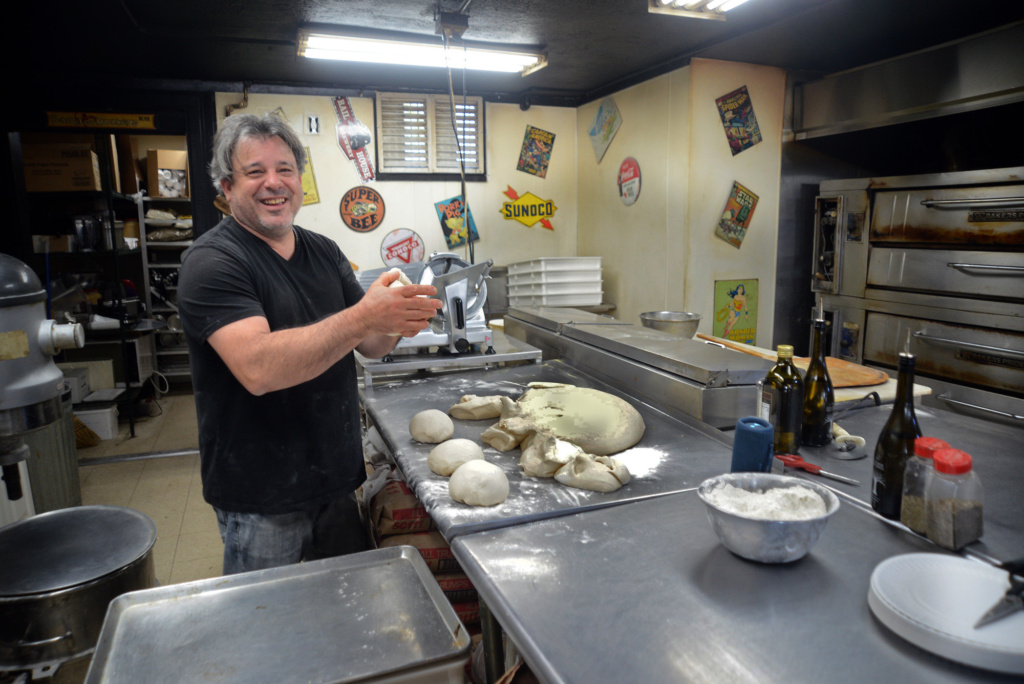 By the time Cirillo opens his doors at 11 a.m., he has already put in a full morning's work. The bread is made fresh daily. Starting around 8 a.m., the dough proofs for two and half hours. When he first opened up, he tried to outsource the bread making to a local bakery. But one day they were too big, and the next day too small, too fat, too skinny. To get the sub rolls just right, he took matters into his own dough-covered hands after only a week and a half.
Whether it's the lunchtime crowd of local workers looking for slices or subs, or families on the way home after a full day, Cirillo is grateful to be part of the community that keeps him busy. "I'm passionate about what I do, and my people tell me that they appreciate me day after day. They say, 'We are glad you're here. We love your food. Thank you so much.' And I'm gonna tell you, that keeps you going. It's not just a job. I'm passionate about what I do, and if I wouldn't eat I wouldn't sell it."
With a hearty laugh, Cirillo explains how he eats a slice — the right way. "It's gotta be folded. And just cheese or pepperoni. Just keep it simple, classic cheese or pepperoni and cheese. In triangles."
When the moon hits your eye, you may have found yourself at Mike's, waiting for your big pizza pie to come out of the oven.
Just slide up to his kitchen counter like you're family. "Everybody's family! Everybody's friends," says Cirillo with enough enthusiasm that you believe him. "It's a great place to hang out. And we have some really fresh made food. You're not gonna find anything like it."
"Vita bella," as Martin crooned.
7 Lakes Pizza Kitchen, 910-673-0017, is open for carryout at 1077 Seven Lakes Drive North in West End from 11-2 Monday through Friday and 4-8 Tuesday through Saturday and closed for major holidays.
Contact Maggie Beamguard at maggie@thepilot.com.