BY MAGGIE BEAMGUARD
Insider Editor
Noah Sheerin was practically born on wheels. His primary passion for the majority of his seven years has been skating.
"He's always enjoyed skating since he was a baby," said his mother, Ciara Sheerin, who recently found a picture of Noah skating through the house on his first pair at age one and a half. "He's so brave. He has no fear. We took him to a skate park two years ago, and we were blown away. That's when we realized he's got a talent here. And he loves it."
Now a second grader at West End Elementary, Noah can be found jumping ramps and grinding rails after school outside his home in Seven Lakes. But he is hoping that he'll soon be catching air at a skate park here in the Sandhills.
The newest and closest skate park to Noah is in Troy, a 40-minute drive, but the family has driven over an hour to enjoy other NC skateparks.
With his mother's support and guidance, Noah has started a new initiative, HigherUp Skating, to raise awareness and money for the grassroots effort of Skaters for Moore, to do just that. The nonprofit organization has been raising money to build a public skatepark in Southern Pines and has secured a $50,000 pledge from the town of Southern Pines toward the $350,000 project.
Noah and his mother were aware of the efforts to bring a park here when they recently visited the new skate shop N2Flow Skateboards and Arcade and saw some of the Skaters for Moore merchandise they carried.
"We left there and talked about it and decided we wanted to use our talent to help bring a skate park here," she said.
The mother-son duo saw an opportunity to build a brand that would positively influence the perceptions of skating and increase interest in it as a sport. Noah's passion and talent, combined with Ciara's small business experience and their family's strong faith, generated the brand HigherUp.
"We don't do spooky stuff," said Ciara. Much of the skate merchandise they have come across has dark or negative associations that reinforce perceptions that skating is for troublemakers. "Where in history did it happen that someone decided a board with wheels had to be bad?" she asked.
"Noah and I got to talking about creating a brand that could change the perceptions about skateboarding. So we came up with HigherUp because we wanted to bring it higher up to Jesus and the talent that he gave us and to bring light to the industry."
They designed a brand logo and have made stickers available for a $5 donation that can be placed on skateboards, bikes, computers and the like. The brand will also create hats and T-shirts down the road. All the proceeds are donated to Skaters for Moore.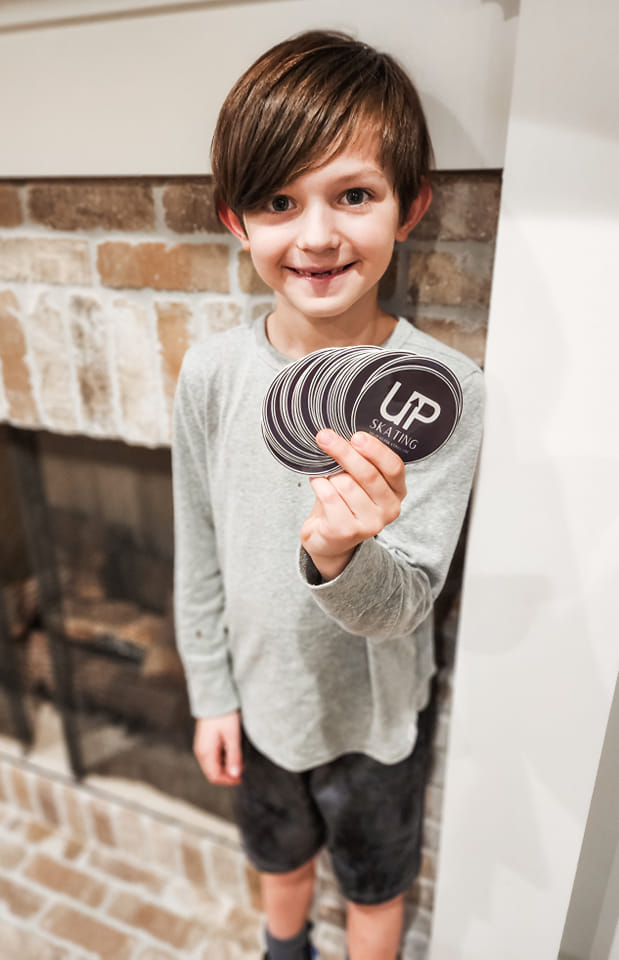 As for Noah, who uses both a skateboard and inline skates, skating is just fun. A skate park would make for a safe place for him to practice new tricks, many of which he comes up with himself.
"I think about (a trick), and if it would be hard or easy. My mom and dad, when I first got the ramp, they told me to jump it but to land in the pine straw. And I was scared, and I did it. And then I just got used to it. And I tried it on the concrete, and I just did it."
Noah's tricks can be viewed on the HigherUp Skating Facebook page along with his merchandise and information about larger donations to Skaters for Moore. A website is forthcoming.
Noah believes every town needs a skate park and hopes if he can help get one built locally that he can, with the help of donors, get them built in other cities.
"Skating is a talent that many of us were given by our Creator and it can bring so much joy!" Noah states on the HigherUp Skating Facebook page. "So join me along this journey as I shed light on the skating industry while also shredding some pavement. Happy skating!"
Contact Maggie Beamguard at maggie@thepilot.com.