On August 17th, Seven Lakes South resident Jessica Wheeler officially opened the doors of her Gilded Nail Studio off of Seven Lakes Drive.  Her salon can be described as the "The Conscious Consumer's Choice for Exceptional Nails."
Wheeler first became intrigued with nail polish during her years in middle school.  Every night before school she would pick out the outfit she would wear – and paint her nails to match.
In high school, she began working as an apprentice in a friend's nail salon.  When she received her high school diploma, she decided to continue building her career in the nail salon.  She was able to work at the salon while earning her associates degree.
"I saw the progress," she said.  "I was always good at doing my own nails… There's an inspirational undertone."
After years of dedication, Wheeler decided to open her own salon by her home at the beach where she flourished for over two years.  She chose a theme for her salon that would match the expectations of beach-goers.
"It was nautical-themed," she said.
In July of this year, Wheeler moved from the beach to a home in Seven Lakes South, along with her husband, Brandon, and their two daughters.  She decided to open another nail salon with a more inspired theme.
Gilded literally means "covered with golf leafing."  Wheeler decided that with her Gilded Nail Salon, a gold and antique theme would carry throughout the salon.
"I've always liked [that style]," she said.  "You take an antique and add glitter to make it new… My grandma painted china… [Painting nails] makes me feel close to her."
Wheeler decided to provide more than just an enchanting environment.  She focuses on health benefits of manicures and pedicures with her different approaches and more natural products.
One thing that makes her salon unique is the absence of acrylics.  According to Wheeler, acrylics contain ingredients that are known to cause cancer.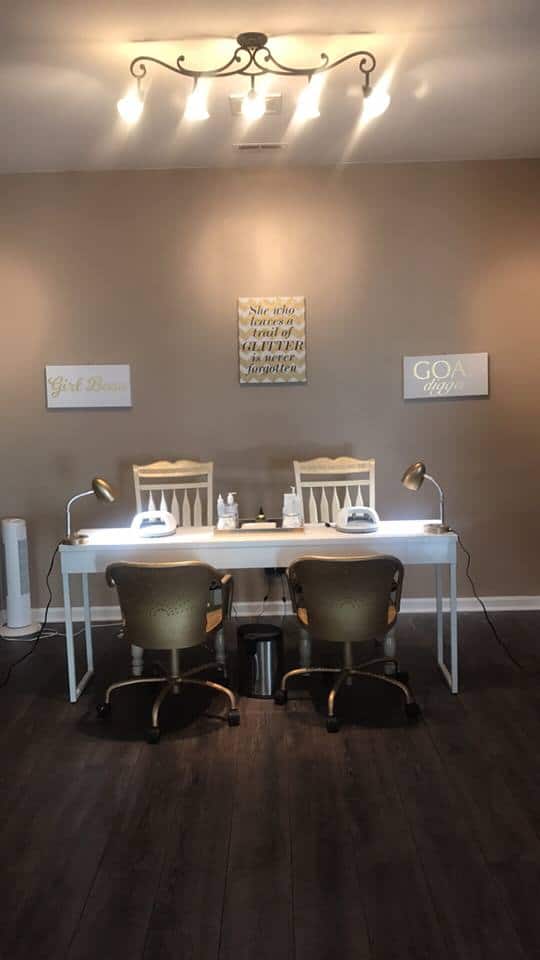 "It's better.  I don't want to breathe that.  I want to go as natural as I can go," she explained.
Because no acrylics are used, clients are not faced with the smell most salons have.  Instead, she delights them with the scent of essential oils coming from her diffuser.
She also uses essential oils in her unique pedicures.  Unlike other salons that give foot baths, Wheeler wraps her clients' feet in hot towels infused with essential oils.  The essential oils are absorbed into the body through the naturally large pores on the feet.
"[It's the] healthiest pedicure," she said.
Wheeler chose to use this method after realizing how much water was wasted when filling up and cleaning water basins with the typical method.
"[Because it's nearly] waterless, it's eco-friendly," she said.
She tries to meet the needs of every individual client.  She provides a vegan callus remover for clients hoping to smooth out their feet without the risk of chemical burns from other products.
"I take everyone individually and work with their needs," she said.
Wheeler provides SNS and OPI powders as well as polishes and gel nails.  She ensures that all of her tools are sterilized before use for a proper salon experience and currently has a sanitation score of 100%.
Her family is supportive of her new venture in Seven Lakes.
"[My mom told me], 'What you do is most noble.  Think about Jesus and how He washed feet'," Wheeler explained.  "[My favorite part is the people.]  People, young and old, all enrich my life in some way."
She hopes to serve the community through more than just a salon experience.  Gilded Nail Salon is also available for hosting wedding showers, baby showers, birthday parties, and more!  The salon provides areas for snacks, presents, and beverages.
Wheeler is even considering having a Gentlemen's Night in which men can come for pedicures while enjoying cold beer.
Gilded Nail Studio is located at 1030 Seven Lakes Drive in Suite H.  To make an appointment at Gilded Nail Studio, contact Jessica Wheeler at (910) 368-3094.  To check out the Facebook page, CLICK HERE.