BY MAGGIE BEAMGUARD || Insider Editor
At the Eagle Springs end of the North Carolina Pottery Highway near the corner of N.C. state roads 705 and 211, tucked behind the tall pines and down a dirt road sits a rustic, red barn. It's the kind of place you might expect to be used as a garage or a location to stash some old pottery wheels.
It is the last place you would expect to find a world-class recording studio. But for musician, guitar teacher, music producer and recording professional Greg Lawrence, the space formerly used by his mother and step father as a pottery gallery and storage area was the perfect place to start a new venture, Evergreen Recording Studio.
Lawrence lived and worked in New York City with his wife, Gwen, and daughter Clara, until 2020, when they escaped the city during COVID-19. They came down to North Carolina to be near his mother, who had made Eagle Springs her home for 20 years or so.
"What we thought would be just a long summer turned into a year and a half," Lawrence said. "We just realized that New York really wasn't working for us anymore, so we decided to make a big leap and move here."
They may be a long way from the fun of night life in the city, but they welcome the change and new opportunities, starting with the transformation of the barn.
Lawrence worked with an acoustics firm to develop plans for the space. With his own two hands, he built a room within a room and filled it with hardware he already owned from his prior work.
The 15-inch-thick walls of the studio create an ideal recording spot. "It sounds really good in here," Lawrence said.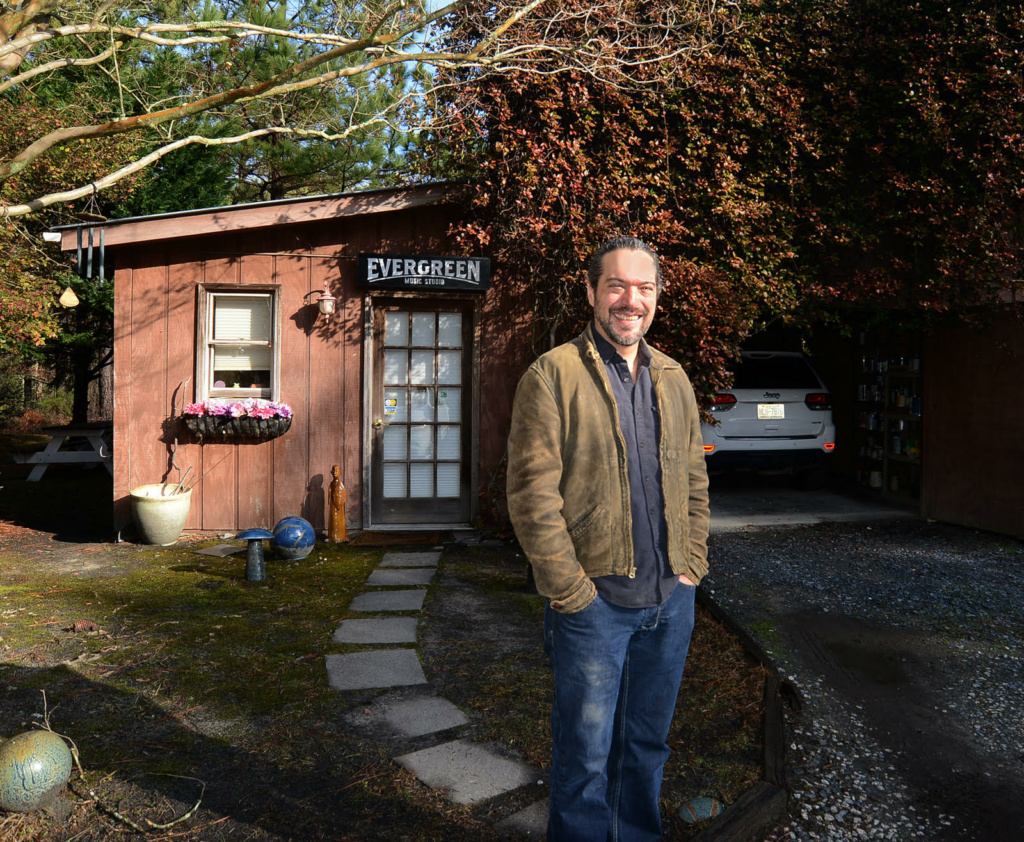 While it's a recording space for Lawrence, who is still writing and making music professionally, he created it with the hopes of developing a comprehensive business for other local artists.
"In New York it was difficult to make this happen," he said. "It's just a whole different order of magnitude to try to get a quiet recording on the first floor in New York City. So with this I can do a lot more."
He is set up to record a full band with plenty of microphones and all the necessary equipment and is already working with local artists as well as mixing music for local people.
"The hope is to be a high quality, local resource, whether it be someone who wants to record an audio book, or someone who wants to put their music out on Spotify or someone who wants to make something for family members."
Lawrence, who studied at The New School and Berkeley College of Music in Boston and has a degree in audio engineering, brings expertise and diverse experience to his endeavor.
"I think recording seems simple in a certain aspect because our lives are so connected to audio these days and you can record anything on your phone," he said. "But there are a lot of technical issues involved with making a really good recording. And in my experience working in a lot of different recording studios and working with different musicians and my own recording, I think the devil is definitely in the details."
Using his strengths, Lawrence is able to offer a high-quality service that doesn't break the bank for anyone. The studio doubles as a teaching space and has an outdoor space and waiting room. He plans to add another room next year for group lessons and drum lessons offered by a fellow musician, Chelsea Davis.
One class he is excited to offer is a Primitive Music class. He explores the origins of music as studied by anthropologists and its social functions and introduces students to primitive instruments from different cultures such as the didgeridoo and bullroarer as well as different kinds of flutes, an instrument first introduced in the paleolithic era about 45,000 years ago. The students make a flute and play music together.
The one-hour enrichment class is geared toward elementary students but ages 6-16 have taken advantage of it.
"It's been really fun," he said. "It was really engaging with the kids, and I think they learned a lot and got a lot out of it." Lawrence anticipates offering additional music enrichment classes in the future.
Creating and teaching music allows Lawrence to make a difference and to positively impact the community.
"A big part of why we came down here was to bring our resources and our experience to enrich the area and to create experiences for people, especially young people."
Providing opportunities for others to pursue a path in music arts is something he feels called to do.
"I've got a student who is interested in going to music school and some teaching and music production, and we're getting him geared up to classes at Sandhills," he said.
"So I show him the work that I've done, and how I approach writing music and I approach producing music. I think if I was a kid, and I found something like that I would have just been so psyched, and so I'm really happy to be that person for him and for other students to get that experience."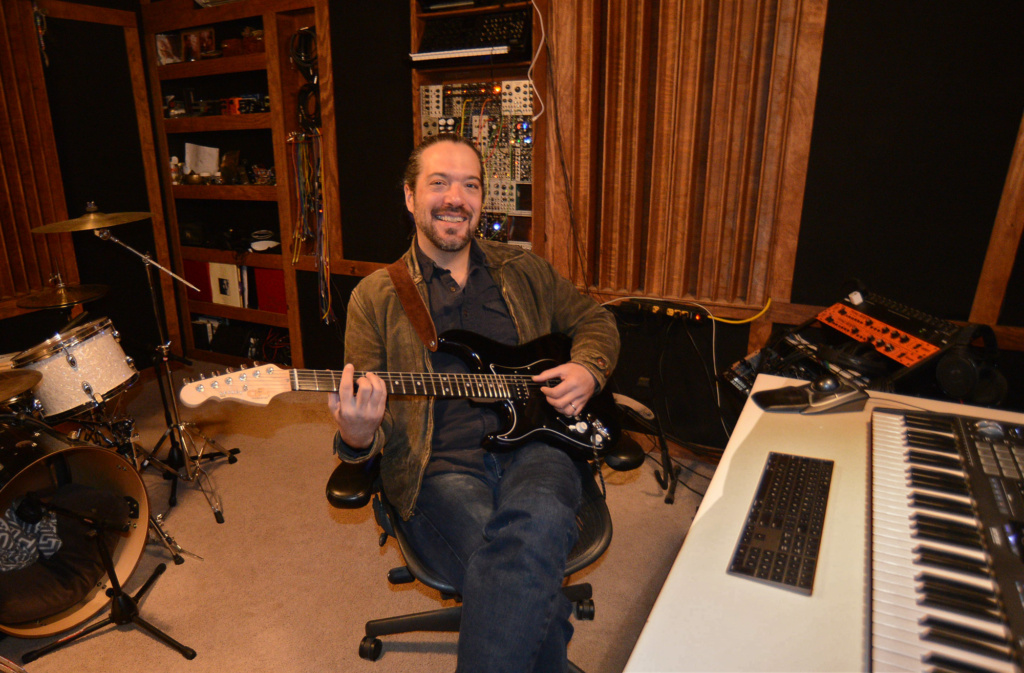 It's the kind of direction Lawrence would have loved at a young age. He grew up in Connecticut and lived in Pinehurst for a time as a teenager during the 1990's and was heavily influenced by the grunge music in his generation.
"I remember being a kid, the only thing I could really do was go to the now-closed CD store and talk with whoever was there," he recalls. "I was always so hungry for any kind of connection to music, and so it feels good to come back here and be an influence in that way."
After painting houses in the summer, he would spend his nights playing guitar and trying to improve his skills. He remembers the feeling he had the first time he played with a band as a high school freshman.
"I remember that feeling where I was finally playing a song together, I thought, 'I just don't ever want this to stop.' And then that was that. I got the bug and tried to find a way to make it all happen."
Following high school graduation he moved to New York and played guitar for different bands and did some touring and performing before studying jazz guitar and later classical guitar. His hard rock days morphed into a diverse career that included creating music scores and performing them for modern dancers; fashion industry commercials, including Saks 5th Avenue; and an audio guide for The British Galleries permanent collection at the Metropolitan Museum of Art.
It's this expansive experience Lawerence brings to the Sandhills.
"Looking around in the area, I felt like there's a need for music education and a desire for it. Compared to what it was like when I was a kid, there's so much more music here and there's so much diversity," said Lawrence, who plays at the Neon Rooster in Aberdeen. "I play with people that are 20 years old and 70 years old, and from all walks of life. And it's a great time you know. There's a lot of passion for music and it's really great to see."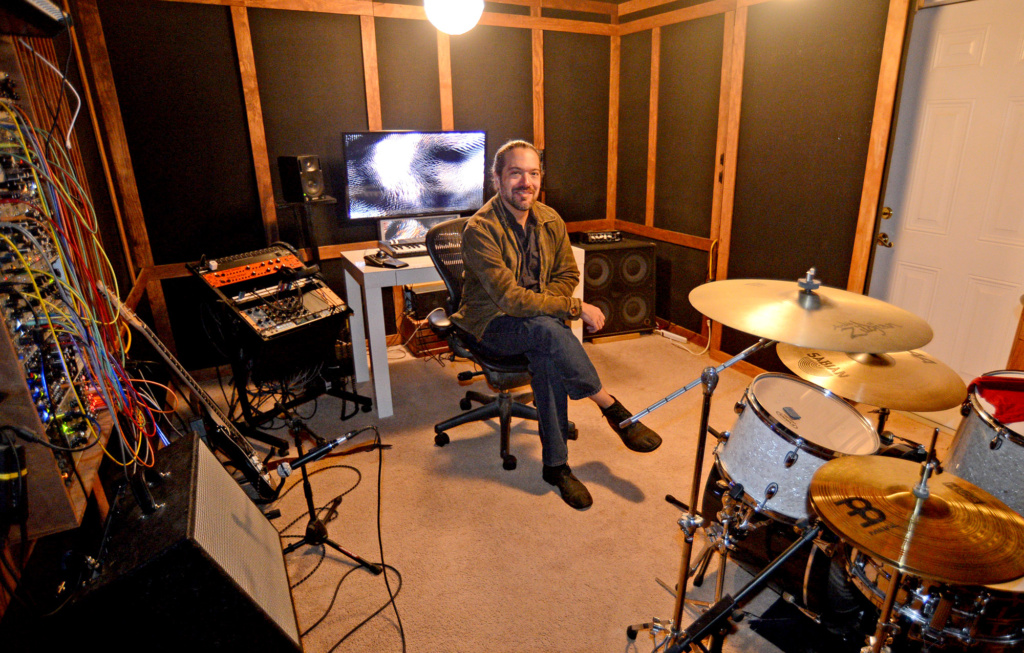 The transition back to Moore County has been eased by reconnections with old friends. Lawrence is even playing music again with one of his close friends from his teen years.
Having eschewed the challenges of navigating life in the big city, his family is finding much to appreciate about their new home. His daughter, almost 7, enjoys the freedom of the great outdoors and running out in the woods.
It's those woods which inspired her to give her dad a name for his new enterprise. "We were looking out into the woods and we were talking about being in the Pines, and she was like, 'Dad, what about Evergreen Music Studio?'"
The name perfectly encapsulated not just the beautiful location in which they now found themselves, but the enduring opportunities the business presented.
"The name Evergreen Music Studio gives it a wide berth. It's not just about the recording studio, but about music in general. It gives me a lot of different places to go, more room to grow and more flexibility."
From high quality music education and music enrichment classes as well as professional audio recording, it's all part of Lawrence's efforts to bring a rich musical landscape to the area.
"My hope too is to be a kind of a focal point for the music community around here," Lawrence said, "And I feel like more opportunities people have, and the more resources people have, that's how a scene kind of develops. It feels like there is a lot of potential here for more interesting stuff to happen."
Information about all of the different offerings from Evergreen Music Studio can be found at https://www.evergreenmusic.studio/.
Contact Maggie Beamguard at maggie@thepilot.com.