Learn-to-Sail Program  2017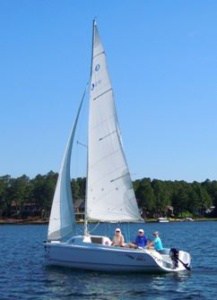 The Seven Lakes Sailing Club will conduct its annual Learn-to-Sail Program on Lake Auman from 12-16 June. All residents of Seven Lakes North, South and West, minimum age of sixteen, are eligible for enrollment.  The program is for those persons who would like to learn the basics of sailing, improve their current skills or apply their skills by racing competitively on Lake Auman.  Previous sailing experience or boat ownership is not necessary for enrollment, as instructors will consider the needs and objectives of the individual student.  Sailors who have completed the program previously are also invited to 're-enroll'.
The program will be conducted from Monday, June 12 through Friday, June 17, 9 AM to 12:30 PM.  Instruction is conducted in a classroom setting at a private residence on Lake Auman, and on the water in sailboats provided by Club members.  The instructors are experienced sailors of the Seven Lakes Sailing Club.
The administration fee to be paid when enrolling into the program is $25. A class book and a pizza on Friday will be provided. Participation in the course also requires a membership of the Sailing Club which is $25.
Contact Paul Kirst at boathouse@nc.rr.com.  You can also contact Bill Mamel at (730-0923) or by email wmamel@twc.com if interested in enrolling, or for further information.