Samantha Bolton was raised in Seven Lakes West and graduated from O'Neal High School.
Although she's been a Katy Perry fan for seven years, she never imagined that she would "wow" her favorite pop star with a dress that she designed.
Bolton has a degree in apparel merchandising and currently works in Raleigh in IT sales.  When she isn't working, she's keeping up with Katy Perry concerts online and preparing to see Perry live.
"I always dress up when I see Katy Perry," she said.
After seeing a crystal-covered jumpsuit that Perry wore at a LuLaRoe convention, Bolton decided to prepare a dress of her own.  She bought 6,000 crystals and began designing them into the shape of Perry's eye-mouth icon.
"I try to duplicate something she wore, but put my own twist on it," she said.  "A lot of Katy's fans do that."
Bolton began making the dress in mid-August and used over 3,000 crystals to design it.
"I've always been really creative," she said.
Bolton wore her dress while standing in line to take a photo with Perry.  However, she didn't expect the dress to fascinate Perry as much as it did.  The pop star called her out and asked where she had gotten the dress.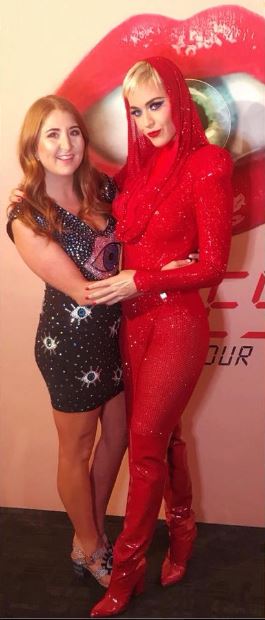 "You made that?" Perry asked in disbelief.
After explaining that she designed it herself, Perry joked that Bolton should make her one, too.
"I was like, 'Oh my gosh; that just happened'," Bolton said.
After winning the adoration of Perry, Bolton hopes that doors will open for her to become more involved in the fashion industry.
"It'd be cool to be an assistant for a costume designer or something like that…," she said.  "I definitely didn't expect any of this to happen."
Perry had a photo taken with Bolton in her dress before posting photos on social media and linking Bolton's account.
"She posted me on her Instagram story…," Bolton said.  "That's all kind of how it blew up."
Bolton also posted a video she took of Perry admiring her dress.  After that night, she noticed a significant increase in social media followers.
Bolton is currently making a dress for Perry's dog, possibly with an American Idol theme.
Although the experience was unforgettable, it was not Bolton's first time meeting Perry.  After winning a free trip to Vegas in 2011, Bolton attended a concert where Perry walked through the crowd, held her hand, and sang directly to her.
"She's very inspiring to women," Bolton said.  "She builds people up."
She became a fan of Katie Perry after hearing her "fun bubbly music."
"I think everybody fell in love with 'Teenage Dream'…," she said.  "Then as I learned more about her as a person.… She's the only [pop star] I really like and am passionate about…. If I could go to every show, I would."
After Perry became star struck by the dress, Bolton handed her a letter that she had written.  She hopes to have another moment with Perry in the future.
"I would rather have that moment again.  She was literally so excited about the dress; that was kind of all we talked about," Bolton said.  "I'm glad I wrote that letter."
Since the event, videos of Perry and Bolton have been posted all over the internet, including on TMC.
"Every time I listen to it, I get chills…," she said.  "Somebody in her position is always in the spotlight.  Some people don't use it for the right thing always.  Katie likes to shine her spotlight on things that matter and speak up for her beliefs…"
"She's just chill," Bolton continued, "like hanging out with a friend.  She's not hard to talk to and likes to goof off with her fans."
In light of the incredible experience, Bolton eagerly waits to see what opportunities arise.
"I want to be on The Ellen Show," she said.  "Ellen could provide funding for me to make Katie a dress."