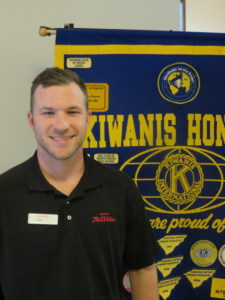 Our speaker, Sam Ransdell, is the owner/operator of the soon-to-be Seven Lakes "Burney True Value" Hardware (located behind McDonalds in the Seven Lakes Business village.
Sam represents the family that runs iconic Burney Hardware, a fixture in Aberdeen for many years.  Sams' presentation included:  History of Burney Hardware, Why the move to Seven Lakes, Type of merchandise store will include, Affiliation with True Value and True Value Young Entrepreneur of the year award.
The store will include Rental Equipment and Party Rentals plus some lumber.  Their plan is to open the Seven lakes branch in mid January.
Kiwanians told Sam that they are glad he made the expansion and chose Seven Lakes!