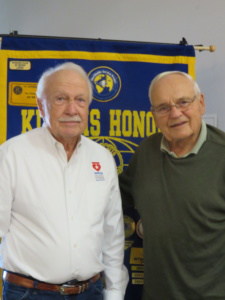 Regional MMIA Director for Southern Pines, Tony Lennon gave a stiring presentation about the impact Military Missions In Action have had on assisting veterans with disabilities, members of the Armed Forces and their families.
Some of their projects included:  Installation of a metal ramp (using donated parts) at the home of a veteran's widow, motorized tub lift for WWII amputee, complete renovation of a donated house to MMIA with the stipulation that it be provided to a deserving veteran family.
Their Fill the Footlocker program works with the local community to collect donations of personal hygiene items, snacks and movies to ship to soldiers overseas.
Tony said, "When we're not building things or sending care packages overseas, we selectively collect and distribute used furniture and appliances, help veterans with small repairs and in some cases, find them assistance from other non-profits."
He ended his presentation by thanking the local community for their fantastic support and to the wonderful crew of volunteers who allow us to channel over ninety percent of all donations directly to our projects.