Jeremy Rust has lived in the Moore County community for 16 years.  He moved to North Carolina from Buffalo, New York in June of 2001.  
In 2001, he began a career with LandDesign, Inc., a landscape architectural and civil engineering firm, working on both national and international design projects. After 8-1/2 years with LandDesign he transitioned to the Moore County Planning and Community Development Department where he spent 5 years working on various long-range planning projects for the County that included transportation, land use, and utility infrastructure as both a Long-Range Planner and eventually a Planning Supervisor However, throughout his career Rust dreamed of owning his own land planning, design and construction company.
Three years ago, Rust created the Landscape Design Innovation Group (LDIG).
"I worked out of the house," he said.  "It was pretty much just me."
Now, Rust has several employees working with him and the company has expanded into its own location at 5615 NC HWY 211.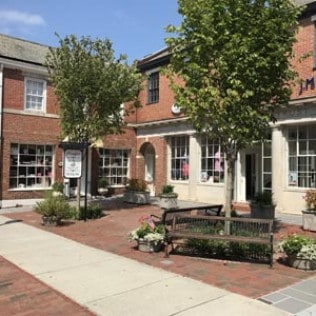 "It's visible; it has curb appeal," he said.
"There's been a lot of growth – about 40-50% growth in the last year," Office Manager Amanda Bryan said.
Only a year ago, LDIG did business solely in the Moore County area.  Now, Rust is doing business in counties as far away as Richmond, Montgomery, Lee, Cumberland, and more.
"We serve all locally from the central office," he said.
What sets LDIG apart from other landscapers are Rust's qualifications.  He is both a seasoned licensed landscape architect and a licensed landscape contractor. These attributes allow him to help his Clients through all aspects of project planning, design, estimating and eventually construction.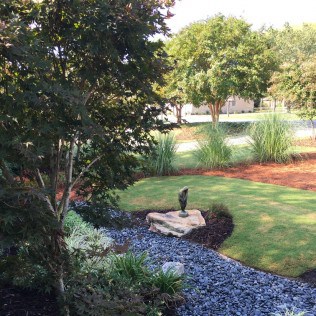 "As far as I know, [we are the] only business in Moore County doing this type of work with those credentials," Rust explained.
Rust did all of the design, landscaping and irrigation for their company's headquarter location in West End.  He even went to great lengths to save a mature pecan tree  in front  of the office.
"It demonstrates our work to clients first hand.  It's our design; it's a way to showcase our work," Rust said.
The building includes a full kitchen, conference room, and a large shop space for maintaining equipment.  Rust's goal with his office is to provide a great space for both employees and his customers. The office space is both spacious and modern including a large conference room where customers can come be an integral part of the planning and design process. The temperature controlled shop space allows them to store inventory for garden center retail and also provides a comfortable space for employees to work on equipment or Client projects that can be constructed off-site.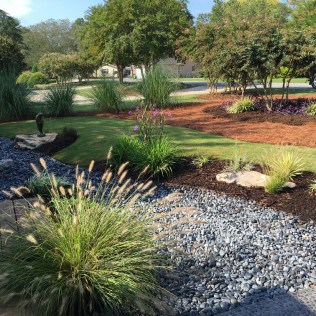 "This spring we will be expanding to the retail side of business," Bryan said.
LDIG will be supplying seasonal color plants and hanging baskets for the spring, irrigation material, Alumi-Guard fencing, compost, and more.
Some benefits of using a landscaping company focused on planning and design is that they add value to a property. That value comes in the form of good planning, design and estimating upfront and the effort to analyze the property's existing conditions early on in the process to avoid problems once a project goes to construction. "Often times we can help a Client prioritize their desires with other landscape needs that may include a grading/drainage, access, or other similar issue – paper and pencils are cheap, truckloads of materials are not.", Rust said.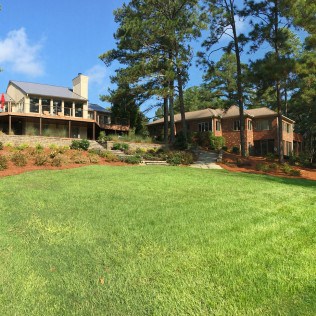 "A lot of clients live on the lake or golf course and can't expand their homes," Rust said.  "So our company can help them create a beautiful and functional outdoor living space instead.  Landscaping adds to the [outdoor] experience for both them and their visitors."
Homes that are on the market have more curb appeal with landscaping.
"You don't have a second chance to make a good first impression," Rust said.  "One home LDIG recently worked on with outdated landscaping was on the market for a while.  With one quick and simple landscape makeover, the house sold in just over a week… It's definitely beneficial to the marketability of a house."
Although it is January, now is the best time to begin landscape design and planning for the spring.  With the permits, material sourcing, and a booming construction industry, it takes time to prepare and gather supplies.
The first step to working with us is setting up an appointment.  Rust does free consultations before creating a design and moving forward with scheduling and permits.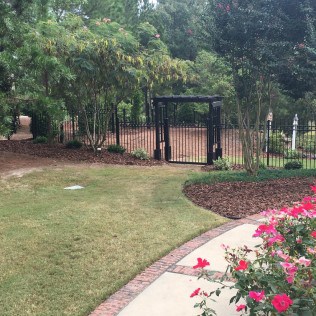 "I think we have an awesome customer relationship," Bryan said.  "Bigger projects come about [through word of mouth].  People think we only do big jobs, but we are well suited  for smaller sized jobs too."
LDIG provides landscaping for residential, commercial, and institutional properties.  Rust hopes to build the company to become the number one landscaping design and construction business in Central North Carolina.
"We're fully capable, licensed, and insured to handle these size projects," Rust said.  We want our Clients to know that we're here, and want to add value to our Community."
This spring LDIG will be looking to hire a full-time experienced landscape construction lead on a construction crew with at least five years of experience.  The individual must have knowledge in landscape and irrigation and coordinate with Rust to implement design work.  For more information.
Looking for office space?  Rust is currently hoping to lease extra office space in  a portion of the LDIG building.  This location is large enough for one or two companies.  
For more information on LDIG, visit www.LDIG.net or call (910) 518-5344.