Seven Lakes has a new body shop. Tim and Susie Read opened Sandhills Collision Center several months ago when they purchased the former Seven Lakes Body Shop.  Sandhills Collision Center offers services such as auto body repair, dent repair, boat & RV body repair, and automobile painting. Located on in the Seven Lakes business area, the Reads have made many updates in order to provide state-of-the-art service.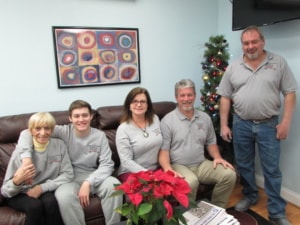 Tim was raised in Moore County and attended Pinecrest High School. In tenth grade he moved to West Germany where his father was living and owned a body shop. Tim began learning the business by assisting his father.  After graduating from high school in 1986, Tim became a medic in the Army, then the National Guard, but he painted cars on the weekends. "That was a good way to make some extra money to support my young family," said Tim.  "My dream was to be a professional baseball player, but after injuring my shoulder as a pitcher at the University of South Carolina, I began working as a painter at dealerships.
In 1996, Tim moved to Florida and started his own businesses; a body shop and a trucking company.  After about eight years, he decided to sell the body shop but continued to do his own autobody work on the side. "I've always been doing it," he said.  "People knew I could repair and paint their cars, so the work kept coming."
When Tim came back to North Carolina to visit his mom, he met his current wife, Susie. The two married two and a half years ago.  Now, this husband and wife duo work together to make sure Sandhills Collision Center runs smoothly. Susie, who grew up in Edenton, has been a Moore County resident for thirty years, and a resident of Seven Lakes for eleven years.  A Digital Learning Coach for Montgomery County Schools, she recently earned her Master's Degree in Instructional Technology, and has been helping Tim to set up shop and create a comfortable environment for clients.  "I created a website for the businesss and continue to work on making the customer area warm and welcoming," said Susie. "We want people to feel comfortable here –not greasy or dirty. If your grandmother came here, she would feel comfortable."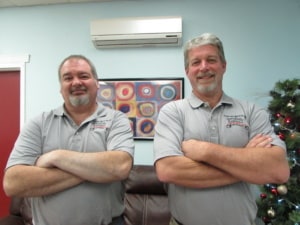 Tim's mother, also named Susie, does her part to help with the business.  "My mom has been amazing.  She keeps the office in order and makes sure we provide top-notch customer service," said Tim.  "Mom and Brett make sure the shop runs smoothly." Brett Perry, who previously worked with Tim at a body shop in Southern Pines, has been hired to be the Shop Manager of Sandhills Collision Center.  Together, Tim and Brett have over seventy years of experience in the business.
Tim's  experiences in the body shopy industry have enabled him to take techniques he has learned and apply them at his shop.  One example is the Lean Process Method which, according to Tim, "is an efficient way of doing business based on load leveling.  I learned from the right people.  I'm taking something I learned and am applying it to my own business. I'm doing it for myself and the community."
What sets this body shop apart from others is the ability to work quickly to provide delivery of vehicles.  Tim and Brett are ICAR and ASE certified.  The shop has a new eco-friendly paint booth and a state-of-the-art Chief frame rack with a precise measuring system.  For now, the team is focusing on helping their neighbors and building up the shop.  In the future, Tim hopes to grow enough to expand into an additional location. Sandhills Collision Center is located at 135 Village View Drive in Seven Lakes.  For more information, or to schedule an appointment, call (910) 673-AUTO (2886).