North Carolina native Gloria Moore has been teaching Holistic Yoga at the Seven Lakes West Community Center for the past decade.
Gloria became fascinated with yoga as a little girl while flipping through an encyclopedia at her home.  She saw a photo of a man doing yoga and asked her mother to read the article.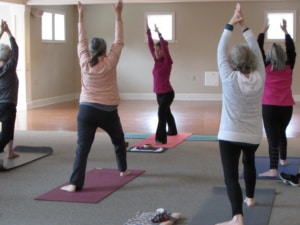 When her mother explained to Gloria what yoga was, she knew she wanted to get involved.
"[It was] just a child's curiosity," she said.
Gloria took ballet classes because the ballet teacher also taught yoga as part of class and there were no other yoga teachers in the area.
As an adult, she spent 15 years in the insurance industry working as an underwriter in Raleigh and Lexington, Kentucky.  She also worked for First Bank Insurance Services, sold real estate, and taught computer technology courses. Her yoga practice was largely gym yoga with various teachers, which didn't seem to nurture mind, body, and spirit.
She began taking yoga teacher training classes at Yoga in the Sandhills with Sandra Thomas Oakley for her own benefit. Gloria had never really had a consistent yoga instructor and wanted to make up for lost time. After yoga teacher training her primary teacher was Tom Thompson of the Awakened Heart Center who studied in India.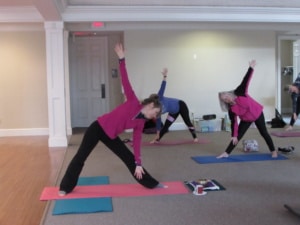 When friends at church found out she was taking yoga teacher training they suggested that she teach a yoga class at the Southern Pines United Methodist Church.
"I first started teaching in October 2007. It's nothing I ever really thought I would do, but my friends at church were very encouraging," she said.
In 2008, Gloria received a phone call from a Carolyn James of Seven Lakes West, asking if she would teach yoga classes in the community.  She gladly accepted and has been teaching Holistic Yoga in Seven Lakes West ever since.
Gloria's classes are unique due to her opening meditation and guided visualizations to help students improve focus and relaxation. Concepts of mindfulness are also presented.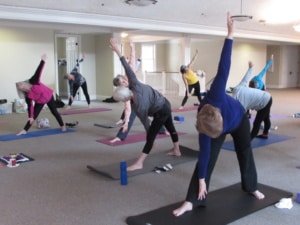 "I want the class to be an opportunity to exercise personal power," she said.  "If I guide them into a pose and it doesn't feel right to them, they are free to change it. That is part of being mindful."
Gloria teaches three classes at the community center.  On Wednesdays, her 9:00 AM Yoga class includes heart openers, hip openers, and strengthening the core of the body.  Her 10:30 AM Yoga Blend class is for people who don't like to get on the floor. She has just started a new class on Thursdays at 10 AM, Yoga for Beginners. All classes can improve golf and tennis.
"My favorite thing about instructing yoga is seeing how students choose to express themselves in yoga," Gloria said, "It's nice to see they can enjoy yoga without trying to pose like the models in the magazines."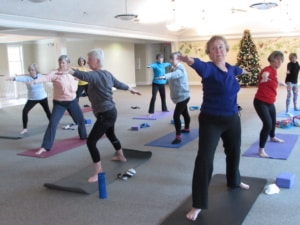 Classes are open to all of the community – not just those who live within the gates.  The cost of a class is $10 per person.
Gloria takes 10% of her earnings and donates it to Smile Train – a non-profit organization that helps children with cleft lips.  Over the years, Gloria has raised a more than $7,000 for the cause.
Those who would like to join Holistic Yoga classes may attend either the 9:00 AM or the 10:30 AM class on Wednesdays or 10:00 AM on Thursdays.  Items needed for the class are a yoga mat and an optional lightweight jacket or blanket.  Please arrive early to the class to sign a waiver.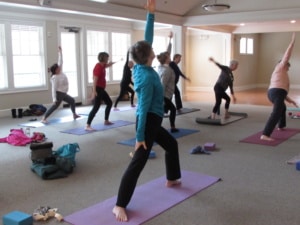 "If under the care of a doctor, find out what activities your doctor wants you to avoid," Gloria said.  "Yoga teachers are not medical professionals, and it's a good idea to know what doctors don't want you to do."
For more information about Holistic Yoga, call (910) 638-4314 or visit www.gloriayoga.com.  Be sure to like her Facebook page at www.facebook.com/gloria.moore1