A call was made about 9:00 AM on Saturday, March 24th regarding smoke coming from one of the buildings at West End Elementary.
West End Elementary Bus Driver Lynelle Smith was driving by the school on the way to get a coffee when she saw a cloud of smoke coming from one of the buildings.
"I work here.  I scan the school [when I drive by]," Smith said.
She pulled over to investigate and made the call to 911.
"I heard sirens as soon as I got off the phone," she said.
Since it was a commercial building, five fire stations were called to the scene including West End, Pinehurst, Seven Lakes, Eagle Springs, and Eastwood who was on stand by.
West End Fire Chief Erik Stromberg took charge of the operation as firefighters forced open a door that led into the basement of one of the brick buildings.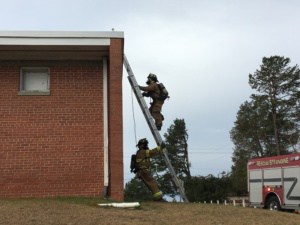 It was discovered that the boiler was running rich – meaning that it was burning hot due to a build up of soot.
"Black soot coats the inside," Eagle Springs Fire Chief Mike St. Onge explained.  "It starts to burn and create black smoke, and it burns two times as hot."
"There was heavy smoke," Fire Chief Erik Stromberg said.  "We forced the door and turned it off."
While there were clouds of smoke erupting from the chimney, there was no damage to the interior of the building.
"We didn't really smell smoke [when we went inside afterwards,]" Assistant Principle Judy Heffner said.
This was the first time that Chief Stromberg had been called to West End Elementary because of the boiler.
"This is the first time in eighteen years that I have been out here for that," Chief Stromberg said.