The following article was written and submitted by Kim Nixon.
Human Trafficking is a global epidemic. Polaris Project in Washington D.C. hosts the national Human Trafficking hotline. Based on the amount of calls received, North Carolina consistently ranks in the top ten states for human trafficking.
Kym Nixon learned how common human trafficking was while living near the Great Lakes. Her eldest daughter, Brooke, is a survivor of human trafficking.
Kym admits that learning her daughter had been trafficked blindsided her.
"I didn't think this was something that could happen to us," she said.
Kym was raising four daughters in a two-parent, Christian, military family living in base housing. Brooke never was into drugs nor a runaway. Kym believes this must have provided a false sense of security that was not grounded in reality.
Human trafficking is not a respecter of persons. Social status, education level, community, and upbringing have absolutely no bearing on who might be targeted by exploiters. Human trafficking affects every walk of life.
In 1998, her two eldest daughters, then 14 and 13 years old, asked if they could babysit for a neighbor.
"I didn't see any problems with this because my husband or I would always be just across the street," Kym explained.
Later, she learned that this woman worked at a strip club.
Trying not to judge her, Kym allowed the girls to continue babysitting. What she didn't know is that this woman was deeply involved in the sex industry and grooming the girls to follow in her footsteps.
"I was naïve and too trusting. My children paid the price," she said.
In the U.S., individuals typically get sucked into human trafficking by someone they know such as a family member, trusted family friend, "boyfriend," classmate, co-worker, or acquaintance, or through social media.
"This neighbor was a big influence in the girls' lives during those awkward years," Kym said. "She became a support system when they were being bullied. She was beautiful and had money all the time, with many admirers. So, they looked up to her as a role model."
Exploiters generally target pre-pubescent, teens, and young people who appear to lack confidence and self-esteem. These master manipulators will provide acceptance, attention, and a "counterfeit version of love and family" that draws the victim into their web.
When Kym got transferred to Maryland, her eldest daughter, Brooke – now 18 years old – decided to stay behind by the Great Lakes.
A few months later, Brooke called her father on a pay phone and asked him to come and get her.
"I knew something bad had happened, but I didn't know what," Kym said.  "She wouldn't talk about it."
As the years passed, things got worse with absolutely no explanation.
"For twelve years I watched her life spiral out of control. She became a stripper, she completely walked away from her faith," Kym said.
Eventually, Brooke recruited her younger sister.
"So, now I had two daughters in the sex industry, not what I had envisioned for them as their mother," Kym explained. "It was a very dark time in my life. I felt like I had no one to blame but myself."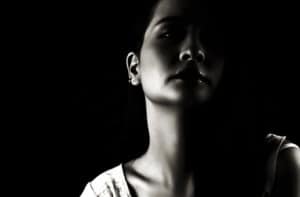 What Kym's training has revealed since then is that strip clubs, massage parlors, nail salons, truck stops, and agriculture areas are common places that people are trafficked.
In 2005, the family moved to North Carolina and the younger daughter was out of the trafficking industry.
As Kym became more involved in her church, she felt the Lord calling her into ministry. When she heard about an anti-trafficking organization coming to speak at another local church, something began to tug at her heart.
In November 2012, Kym attended her first symposium on human trafficking and heard stories from a panel of survivors. She came home and began sharing the survivors' stories with her family when she noticed something resonating with Brooke.
"I remember seeing an eye flash, but I didn't know what I was looking at," Kym said.
Many times, survivors do not self-identify. There is usually a lot of shame, guilt, confusion, and fear that prevents them from seeing their situation logically.
This is why awareness, training, articles like these, and survivor stories are so important. These forums provide opportunities for conversations to open that can lead to an intervention.
In early 2013, Kym and her friend, Sandy, co-founded Changing Destinies Ministry (CDM) under the guidance and support of Seven Lakes Baptist Church.
CDM held an awareness event at Sandhills Community College later in the fall that featured survivor testimony and abolition groups located throughout NC. After hearing one survivor's testimony that was very similar to her own experience, Brooke eventually found the courage to begin sharing her own story.
By this time, Kym had enough knowledge and connections to get Brooke the help she needed immediately. That is when Kym began to see Brooke heal from the trauma of her past experiences.
Kym credits Brooke's healing completely to God and His grace and love for her.
"The faith community rallied around her with unconditional love and prayers. She also received support and mentorship from other human trafficking survivors," she said.
Now, Kym and Brooke share their testimony together at awareness events as a mother-daughter team.
"She shares as a survivor. I share as a Christian mom," Kym said.
CDM teams also do outreach to women working in the sex industry. Kym hopes to one day have the funding to open a faith-based shelter with in-home intensive services and holistic healing programs.
Kym also shares some lessons learned on how to keep children safe:
Know who your children are hanging around with.
Provide a safe environment to have these types of conversations with them.
Let them know their true value.
Know the red flags to identify trafficking.
In the event you suspect human trafficking, call the national hotline at 1-888-3737-888.
For more information and to discover how you can partner with Changing Destinies Ministry, visit their website at www.changingdestiniesministry.org or call Kym at (910) 987-8868.