On Saturday, September 22nd, members of the Chapel in the Pines came out to the Seven Lakes North Tennis Center to paint over the graffiti that had been left there during an act of vandalism.
Pastor Paul James of the Chapel in the Pines was exiting the fitness center in Seven Lakes North when he saw the vandalism.  He decided that something should be done about it.
"I came out of the fitness center and realized there was graffiti," Pastor Paul said.  "I thought our kids could take care of that."
Volunteers from the high school and middle school youth groups took time out of their afternoons to come and paint over the graffiti.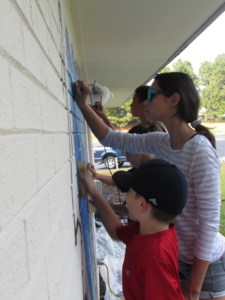 Volunteers included Eric Bishop, Jade, Anna Lee, Ryland McCloskey, Same Stoltz, and Claire Collins.
Pastor Paul's daughter, Alison McCloskey, also helped to paint as well as Bob Bishop of the Chapel's Men's Fellowship.
The group met out in by the Tennis Center at about 2:00PM and began with sanding the area where the graffiti had been applied.  Then they proceeded to prime the entire wall before painting it.
Tennis Center owners Katie Carpenter and Canyn Russell also oversaw the painting and were grateful to be helped by members of the community.