Guess Who's Coming to Dinner is a 1967 comedy-drama that won two Academy Awards in 1968 along with eight additional Oscar nominations. Film critic Roger Ebert described the film as "a magnificent piece of entertainment. It will make you laugh and may even make you cry." The Sunrise invites you to laugh and cry on Sunday, February 2 at 4pm as it screens the Oscar classic starring Spencer Tracy, Sidney Poitier and Katharine Hepburn. The movie is sponsored by Ashten's Restaurant and tickets are $8 reserved seating.

The film is about Joanna Drayton, a young white woman who returns from a Hawaii vacation to her upper-class family home in San Francisco with her new fiancé, John Prentice (Sidney Poitier). The fiancé happens to be a 37-year-old black physician and medical professor, whom she met just 10 days prior.
Joanna's parents – newspaper publisher father (Spencer Tracy) and art gallery owner mother (Katharine Hepburn) – are avowed liberals who have always instilled in her the idea of racial equality. Although they try to hide it, Joanna's parents, and in particular her father, are initially upset that she is planning to marry a black man. Tillie, their black maid for 22 years, is even more horrified that John is trying to "get above himself" by marrying a white woman. Joanna asks why it is okay that she loves Tillie, but she shouldn't love John, who is "just as black".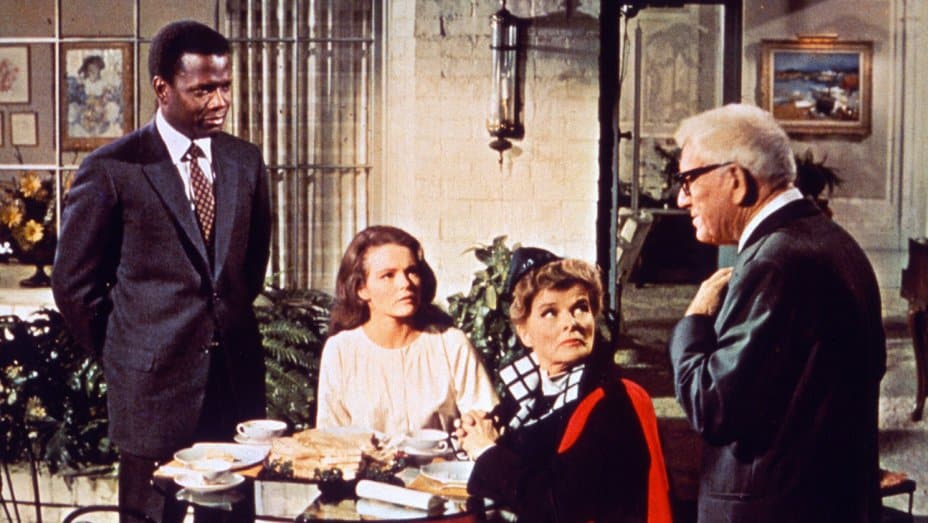 Guess Who's Coming to Dinner is the third Oscar Flashback at the Sunrise, leading up to the 2020 Academy Awards on Sunday, February 9. Other flashbacks included The Sting on January 5, and Lord of the Rings: The Fellowship of the Ring on January 12. Tickets to the February 2 showing of Guess Who's Coming to Dinner are available at SunriseTheater.com, at the Sunrise office, or by calling the Sunrise at 910-692-3611.
MOVIE TRIVIA
· The lead actors agreed to be in the movie even before seeing the script because they believed so strongly in the story's premise.
· The film was the ninth and final on-screen pairing of Tracy and Hepburn.
· Joanna Drayton is played by Hepburn's niece, Katharine Houghton.
· A bust of Tracy sculpted by Hepburn is used as a prop in the scene where Sidney Poitier makes his phone call.
· Poitier was so star struck working with Hepburn and Tracy who he considered "giants" of acting that he become tongue tied during the shoot. After some frustration, the director had Poitier play the scene against two empty chairs. Poitier said, "I don't want them here because I can't handle that kind of company."
· The film was one of the few films of the time to depict an interracial marriage in a positive light. Interracial marriage was historically illegal in most states and was still illegal in 17 states when the film project began. On June 12, 1967, six months before the film was released, the US Supreme court declared anti-miscegenation laws unconstitutional in the case of Loving v Virginia.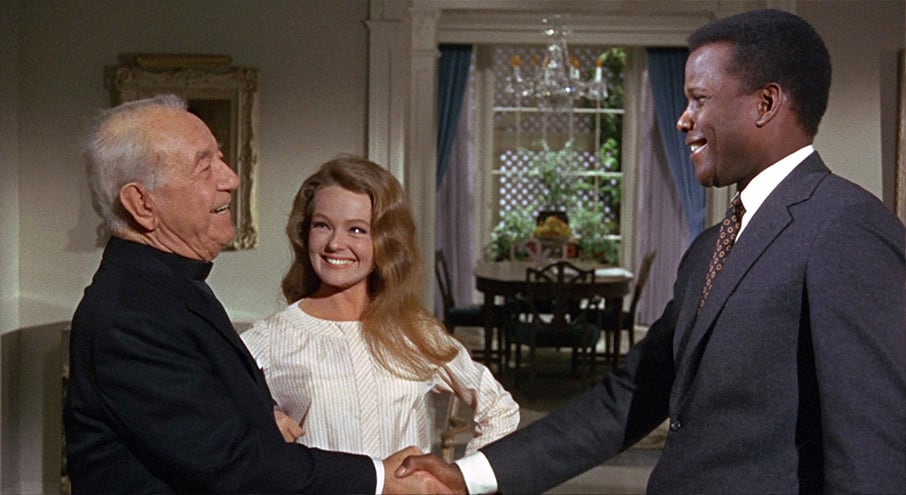 · At age 67, Spencer Tracy was in poor health with heart disease, diabetes, high-blood pressure, respiratory and other ailments. He died two weeks after he completed his work on the film, never seeing the finished movie.
· Guess Who's Coming to Dinner was Isabel Sanford's (Tillie) film debut. She later gained fame as Louise on The Jeffersons (1975). In 1981, she became the first African American woman to win an Emmy Award for Outstanding Lead Actress in a Comedy Series.
· Guess Who's Coming to Dinner was a box-office hit grossing $56.7 million. It gave Sidney Poitier his third box-office success in six months in 1967 including To Sir with Love and In the Heat of the Night.
· The movie was first shown on U.S. television September 19, 1971 and was the highest-rated film broadcast of the year.