The Truckley family moved into their new home in Seven Lakes North only weeks ago, but they have found an interesting way to get to know the community – painting rocks.
Kadence (14) and Fennlie (10) were a part of the Cheer Savannah team in Georgia which how they became introduced to painted rocks. They currently cheer at Cheer Extreme.
"When we had cheer competitions, we started finding decorative rocks all over the stadiums," Kadence said. "We thought it would be something fun to do."
While the girls aren't the only ones in the area who paint rocks, they were excited to bring their experiences from Georgia into North Carolina with them.
Rocks that are found may be re-hidden, or they may be kept as a "lucky rock."
Fennlie found her lucky rock at her first cheer competition, and she has kept it as a constant reminder of encouragement from it's painter.
"My lucky rock has a unicorn on it," Fennlie said. "Some have flowers, some have trees or polka dots. It's like saying 'Good luck' or 'I hope you guys win'."
"It's something teams pass on to other teams," Kadence added. "Everybody has a lucky something."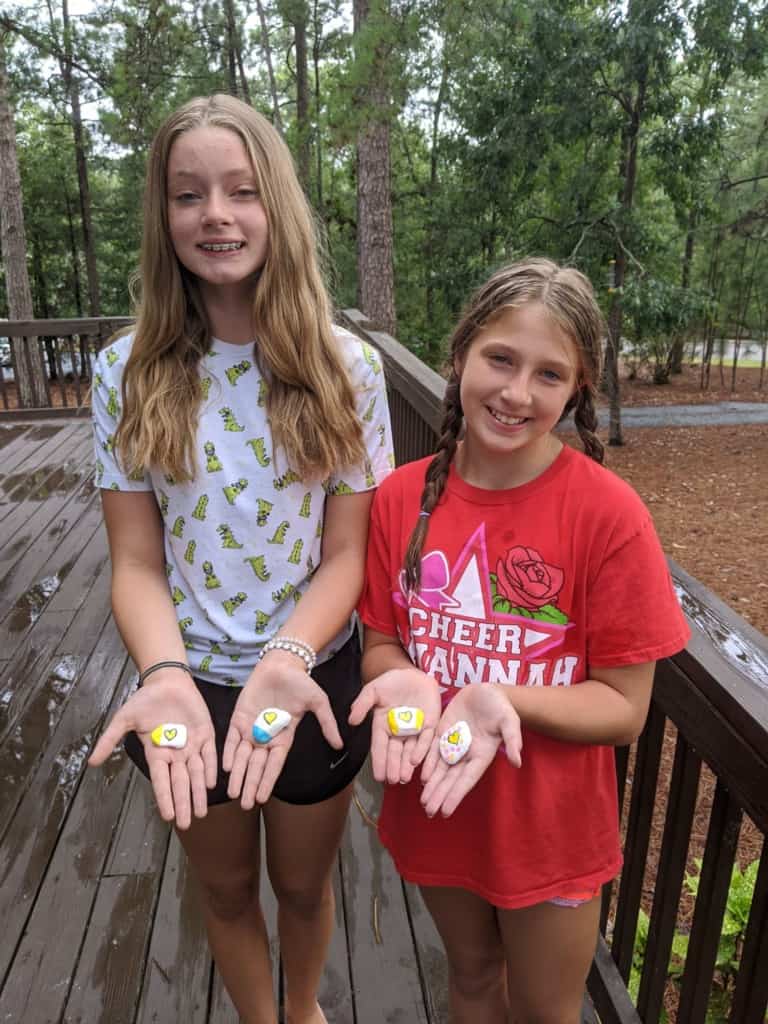 The girls began painting their own rocks to leave around Seven Lakes North – their new home. They thought it could help them to learn the area as well as make some new connections.
"We decided to do white rocks with yellow hearts," their mother Amanda said. "Someone else is painting theirs green with gold glitter."
Amanda already has already received numerous messages from folks who have found rocks left by her family.
"The first rock we hid was in the mail room. A gentleman found it and gave it to his wife. She's keeping it as her lucky rock," Amanda said.
Others have posted on the community's Facebook group that they have also found painted rocks.
"Some still aren't found yet," Amanda said. "If you find one out there, tag us in the page."
"We've hid probably over 20, and we're still making more," Kadence said. "We might branch off and do smaller designs on some of them."
The Truckleys get rocks by either finding them in the community or purchasing them at Michael's.
"Everybody loves finding them. It brightens up their day," Kadence said.
While the rocks have already made an impact on the community, it is the first real instance where the girls have found themselves painting regularly.
"I've done crafts here and there," Fennlie said. "I make a lot of slime usually."
This fun activity has allowed the family to make connections within the community as well as explore their new home in Seven Lakes.
"Everybody finds them and it brightens up their day," Kadence explained. "I definitely think with hiding the rocks we get to explore more. It's been really fun."
Being in the community for only a few short weeks, the family fallen in love with what Seven Lakes has to offer.
"Everyone has been so welcoming here," Amanda said. "We go to the lake and everybody talks to us, introduces themselves. It's a good community."
"I love the lakes and how a lot of people are really nice to me," Fennlie added. "In Georgia, there were no kids my age in our neighborhood. It's really good having people my age around here."
The family also loves the atmosphere of the community.
"I like how quiet it is around here," Kadence said.
The Truckleys can't wait to learn more about their new community in the future as things begin to open up again.
"We can't wait to use the pool and the horses," Amanda said.