Just think. You're in Nice, France, dining on the shores of the Mediterranean, with an umbrella and sand between your toes, feeling the breeze and listening to a french song (Edith Piaf is fine) and a salade Nicoise comes to mind.
First of all enjoy the pleasure of cooking for your own well being and that of your loved ones.
How to prepare a salade nicoise:
Ingredients (for four)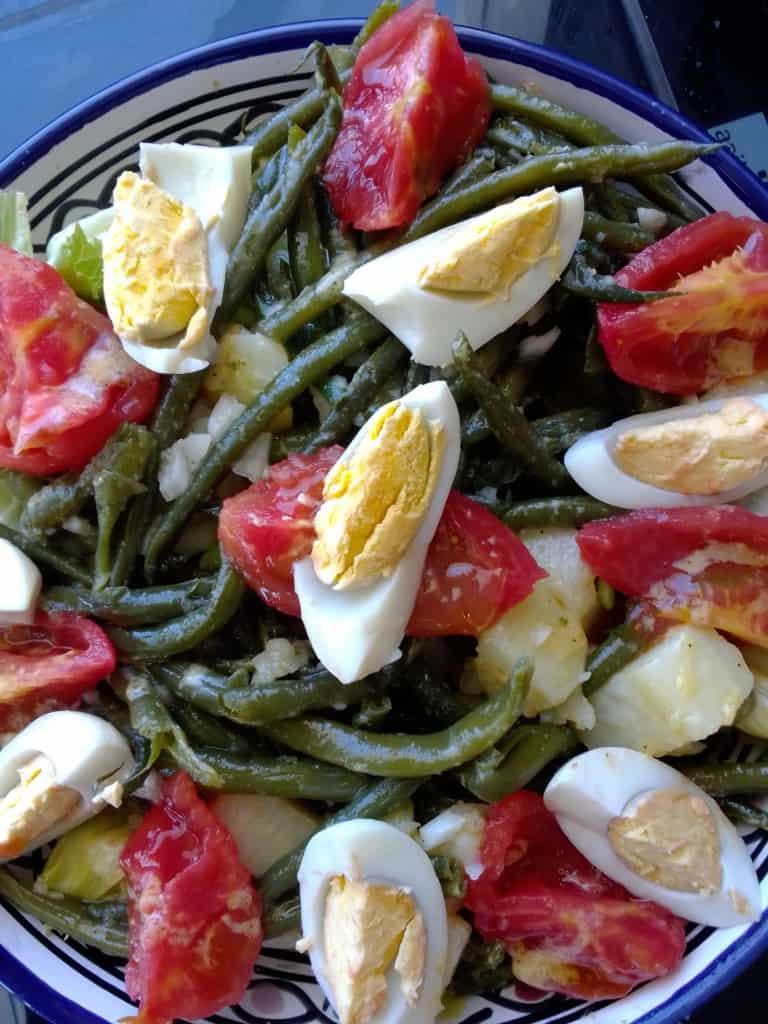 1 1/2 lb small red potatoes, boiled then sliced thin
1 lb green beans, left or cut
4 tomatoes, farm fresh, sliced thin
1 head lettuce either Romaine or Iceberg shredded
4 eggs, hard boiled, cut in wedges
1/2 cup Nicoise or Kalamata black olives
2 Tbsp capers
1/4 cup parsley chopped fine
4 Tbsp mayonnaise
Make a quick dressing: in a bowl combine 1/4 cup olive oil, lemon juice to taste, a dash of dijon mustard, salt, pepper and a dash of caper juice, and wisk with a fork.
Method:
Clean your counter and the utensils you'll be using withh a little bleach water – 1/4 cup bleach to 1/2 gallon water. It will give you peace of mind about Corona (Not the beer). Now try to sing a little while boiling your potatoes, green beans and eggs. Let all cool in a strainer, chill the eggs in ice water.
Wash then shred your lettuce, slice the tomatoes, drain the Albacore tuna and refridgerate all your ingredients until ready to use.
And now your creative fun begins: using large plates, place the lettuce in the center topped with a chunk of tuna, spread the other ingredients in a circle around the center. make it look pretty, it is your creation. pour the dressing around, a spoon of mayo on top of tuna, sprinkle the olives, capers and parsley on top. Cut the eggs in 1/4 and put them last. Add a quarter of a lemon for garnish. This is where your love shines through. Bake a fresh baguette for the aroma.
Serve with a baguette in a basket, and Bon Appetit.