From self-driving cars to nanobot technology, it sometimes seems like we are living in a sci-fi movie. Now, the latest convenience that the future has to offer is virtual restaurants. No need to worry—while the restaurant itself may be virtual, the food is definitely real.
Virtual restaurants, also known as "ghost restaurants," are eateries that do not have a physical location open to the public. There is no storefront, no dining area, and no drive through. Instead, these restaurants cater to clients' needs through food delivery apps and their own websites.
Local users of DoorDash may recognize the name "It's Just Wings" from the delivery app's list of nearby restaurants. Viewers are enticed with a menu of wings, curly fries, fried Oreos, and an extensive selection of sauces paired with photos that look good enough to eat.
However, there is no physical location for It's Just Wings here in Moore County—or anywhere else, for that matter. Instead, It's Just Wings operates in the same restaurant as Chili's. The two share a kitchen space, but are independent from one another in terms of branding and menus.
With no storefront and little to no advertising, how do ghost restaurants stay in business? By cutting back on the cost of maintaining a whole restaurant and lowering the amount of staff needed to run said restaurant, virtual restaurants are able to keep overhead costs low. Therefore, virtual restaurants tend to have extremely competitive prices on their menus, which in turn increases sales for the company.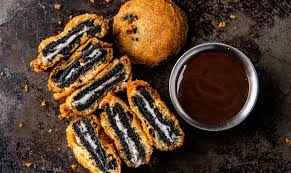 Just like a normal restaurant, these ghostly eateries take their patron's order, then cook and prepare it for maximum freshness. A delivery driver then hand-delivers the meal straight to the customer's door.
Chilis and It's Just Wings aren't the only ones partnering up. Pasqually's Pizza & Wings operates out of Chuck E. Cheese, Neighborhood Wings operates out of Applebee's, and The Wing Experience and The Burger Experience both operate out of Smokey Bones Bar & Fire Grill.
Like food trucks, virtual restaurants have flourished in a post-COVID world. With limited dining availably and many chains closing locations altogether, virtual restaurants get their foot in the door by not only offering the convenience of delivery, but by managing to remain open.
Many virtual restaurants offer an extensive selection of customizations and mix-and-match specials thanks to the convenience of placing an order online. It's Just Wings keeps things simple to keep prices low, with their slogan being "No forks, no knives, no napkins. It's Just Wings."