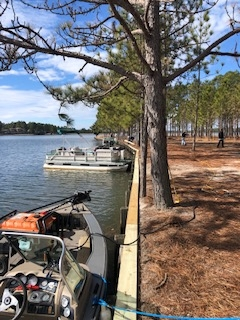 On Friday, February 5th, Lake Auman Sports Club began another Seven Lakes West community service project.
Volunteers off-loaded and transported to Pine Island the lumber (38 pieces of 2" x 8" x 12 ft boards) and the hardware needed to replace the old bulkhead caps along the south side of the island. 
On Saturday, another team removed the old wood and installed 480 feet of new pressure treated bulkhead caps.  When the water warms up, the Club will install new side boards on the Island and re-install the boat cleats. 
LASC President Bob Long organized the project including estimating and ordering the needed materials and scheduling the manpower, tools and equipment needed to get the job done.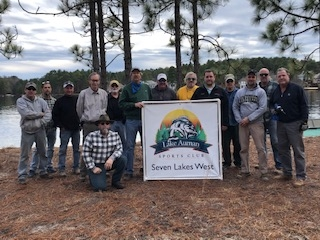 Bob expressed his gratitude to both work teams acknowledging the outstanding direction and guidance offered by Bill Elchik on Saturday to accomplish this task more efficiently than anticipated.
A hearty Lake Auman Sports Club thank you goes out to the Friday team including to Bob Temme, Garland Horton, Don Smith, Don Snell, Stan Makson, Dave Lamon, Bill Pratt, Jeff Brisson, Roger Erwin, Josh Davis and Logan Davis and to Saturday's team including Don Snell, Stan Makson, Joe Easley, Dave Lamon, Garland Horton, Roger Erwin, Bill Elchik, Jeff Timmons, Bill Carl, Erik Stukenberg, Jamy Mchone, Tom Thompson, Matt Hoover and the "Big Generator Guy" Mike Ozimek.