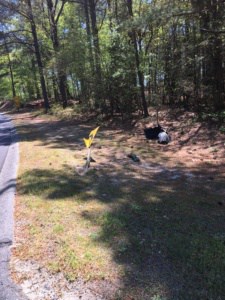 On Saturday, April 21st a man driving a black Nissan had a single-vehicle wreck when he ran off the road, destroying a road sign and knocking off his bumper.  He then returned to the road and crashed into a tree 487 feet away from the sign.
The driver was pinned inside the vehicle and had to be extracted by members of the West End Fire Department.
Shards of glass hit the man in his face, and his arm was also injured in the wreck.  He was taken to Moore Regional Hospital to receive treatment.
State Trooper Covington stated that the driver was not wearing a seat belt at the moment of impact and would receive a citation for failure to stay within the lane.
First responders included West End Fire & Rescue and Moore County EMS.
This incident is still under investigation.