Talented young golfers will take to the greens at Beacon Ridge Golf and Country Club this summer, for a chance to participate in the 10-Year-Old Girls Division of the U.S. Kids World Championships.
The official event will take place over a three day period, from July 29-31. Spectators are welcome to attend.
Raymond Ou, the four-year-owner of Beacon Ridge, was thrilled with the news. Ou has long been a proponent of youth golf, and is always searching for new ways to support young people who are interested in the sport.
Since he first purchased the West End property, Ou has done his best to coordinate with local high school golf teams. The club now regularly hosts practices and matches for students of different Moore County schools.
Beacon Ridge also lent its facilities to the U.S. Kids Golf Sandhills Local Tour on April 18. Approximately 150 junior players played the course.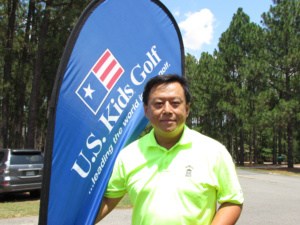 Raymond's own daughter started golfing when she was six years old and went on to join the team at North Carolina State University. He wishes more kids could do the same.
"Golf improves the kids' character. It keeps them healthy and teaches them patience," said Ou. 
Ou is not the only resident of Seven Lakes who is excited by the competition. Already, the event has gained the support of more than 60 volunteers from the community, who are ready to lend a hand as soon as July rolls around. Helpers will be managing the driving range, running shuttles, serving food or drinks, and more.
Ou hopes the partnership between Beacon Ridge and various youth golf organizations will continue to grow from here.
"I'd love to host many tournaments in the future, from local to championship leagues," said Ou. "Junior golfers are our future."
Contact Mary Moore at mmoore@thepilot.com.