An O'Neal School student has been named the winner of the sixth annual Seven Lakes Family Dentistry Scholarship.
Molly Kuzma, a senior at The O'Neal School, received a $1,500 college scholarship.
Two other finalists were also awarded scholarships. Anna Jones, from Pinecrest High School, received a $1,000 award. Ava Wellener, also from Pinecrest High School, received a $500 award.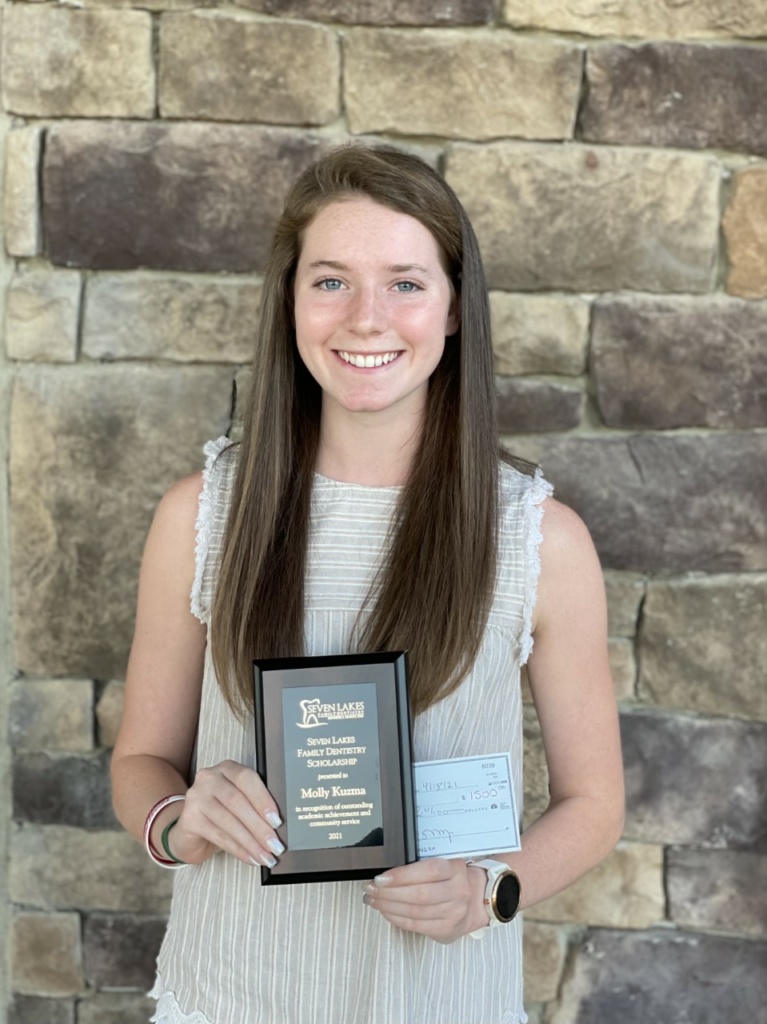 Kuzma is the daughter of Charles and Christine Kuzma, of Foxfire. She is ranked first in her class at The O'Neal School. Her leadership roles include president of the Student Government Executive Board, sophomore class president, the Cum Laude Society, co-president of the International Club, Key Club executive board member and member of the O'Neal Leadership Academy.She was selected to attend Governor's School of North Carolina.
Kuzma is captain of the varsity cross-country team, where she is the school record holder in the 5K, and has twice been named NCISAA 2A State Champion/Runner of the Year. She is captain of the varsity swim team and was the NCISAA Division III 200 yard freestyle relay state champion. She is also captain of the varsity track and field team and is the school record holder in the 800 meter, 1,600 meter, 3,200 meter and 4X400 meter relay.
Kuzma plans to attend Johns Hopkins University and pursue a career in the medical field.
As was noted by her references, "Molly has an unrivaled intellectual curiosity and is the most decorated cross country and track/field athlete in the school's history. Her work ethic and intense desire to learn are unmatched."
Anna Jones, daughter of Reg and Nicole Jones, of Pinehurst, is ranked third in her class at Pinecrest High School. Her extracurricular activities include being a soloist with Terpsichore Dance, serving as president of the Key Club, serving on the Youth Advisory Council at First Baptist Church Southern Pines and being vice president of the Psychology Club.
Jones' outstanding character was evident in her letters of reference. Described as being "very committed to learning at the highest level possible and having an impeccable work ethic that is contagious," she will attend Wake Forest University in the fall. She plans to pursue a career in the medical field.
Ava Wellener, daughter of Andrew and Laura Wellener, of Pinehurst, is ranked 10th in her class at Pinecrest. Her leadership activities include the Food Allergy Research/Education National Teen Advisory Group, participating in the North Carolina School of Science and Math Online Program, president of the Shakespeare club, team captain of Science Olympiad, co-captain of the speech and debate team, junior class vice president, and member of Odyssey of the Mind. Wellener plans to attend Duke University, where she will pursue a career in anthropology and linguistics.
According to references, "Ava is extremely motivated, trustworthy, has incredible dedication and can problem solve at a moment's notice."
The Seven Lakes Family Dentistry Scholarship is open to any senior at any high school in Moore County. With 35 applications received this spring , the Independent Scholarship Committee had a difficult decision. The committee is composed of retired educators and business professionals. Applicants were evaluated on the basis of academic performance, moral character, letters of recommendation, community involvement and a personal statement.
Dr. Jennifer S. Massey, owner of Seven Lakes Family Dentistry, sponsors this scholarship as a way to give back to the Moore County community.
"I remember how important the scholarships were that I received," Massey said. "They allowed me the opportunity to complete my undergraduate education debt free. I am honored to be part of assisting other students in fulfilling their college and career aspirations.
"We were excited to have such a great response again this year, and I look forward to continuing this scholarship each year."