You think it's tough these days buying a house? Building one is no better.
Just as inventory is short of existing homes, the construction supply chain is short of many of the components that go into building a new home.
"There are certain things we can't even get right now, like certain types of beams, floor joists and engineered wood," said Dustin Adams of Daniel Adams Construction. "We are trying to piecemeal things together or may have to look outside our regular brands. It's just one more hoop we are having to jump through."
A nationwide lumber shortage is just one of the supply challenges facing Moore County homebuilders this spring. Indeed, lumber prices have soared over the past year, making it not only expensive but hard to find.
But the scarcity does not belong to lumber alone. Vinyl siding, appliances, new windows and doors are all becoming more challenging to source by the day.
Adams, a second generation local home builder, said the material shortages have made it harder to maintain construction schedules and "pricing as efficiently as we have in the past."
Translation: that new home is getting a lot more expensive for folks who'd rather build than buy an existing home.
The genesis of the lumber problem began over a year ago when sawmills and other manufacturing companies closed or slowed down operations because of the pandemic. The thinking, at that time, was an economic slump would follow and interest in new construction would dwindle.
Prices Soar
That didn't happen. Instead the real estate market hung tough and do-it-yourselfers came out of the proverbial woodwork to tackle home improvement projects, driving up demand for wood and other building materials.
The cost of lumber has soared more than 200 percent during the past year according to the National Association of Home Builders. That spike has added more than $24,000 to the average price of a single-family home.
A single 4-foot-by-8-foot sheet of particle board, commonly used in roofing and walls, is running around $40. Its normal price is around $10 a sheet.
But rising material costs aren't the only issue. Acquiring what you need when you need it is an entirely different concern.
Brandon Haddock of Pinehurst Homes, another second-generation local builder, said one company his business regularly uses for custom windows has a 26-week lead time for deliveries.
"It has always been about price, price, price. Now the emphasis is on lead time," he said. "A lot of stuff — if it is not a wood product — the pricing has not necessarily gone up but the lead time has."
Pinehurst Homes builds six to eight custom homes in a typical year, along with four to six whole-house historic remodels, including work on many of the earliest homes built in Pinehurst.
"Lead times are a concern and there has been an increase in lumber cost but neither have seemed to slow the industry as a whole," added Haddock.
Adams agreed.
These days he's telling new clients they'll have to wait several months out for a custom design, much less actual construction. He said they're also building more custom homes in the mid- to upper-price ranges based on demand.
Paula Nash, executive officer of the Moore County Homebuilders Association (MCHBA), said the area's hot real estate market is hitting all facets of the building industry.
"I get calls daily from people looking for a builder that is even available. Most are six to nine months out on projects and our custom builders usually have five to seven contracts pending," Nash said.
"Our builders haven't slowed down throughout the pandemic. They have just adjusted around it."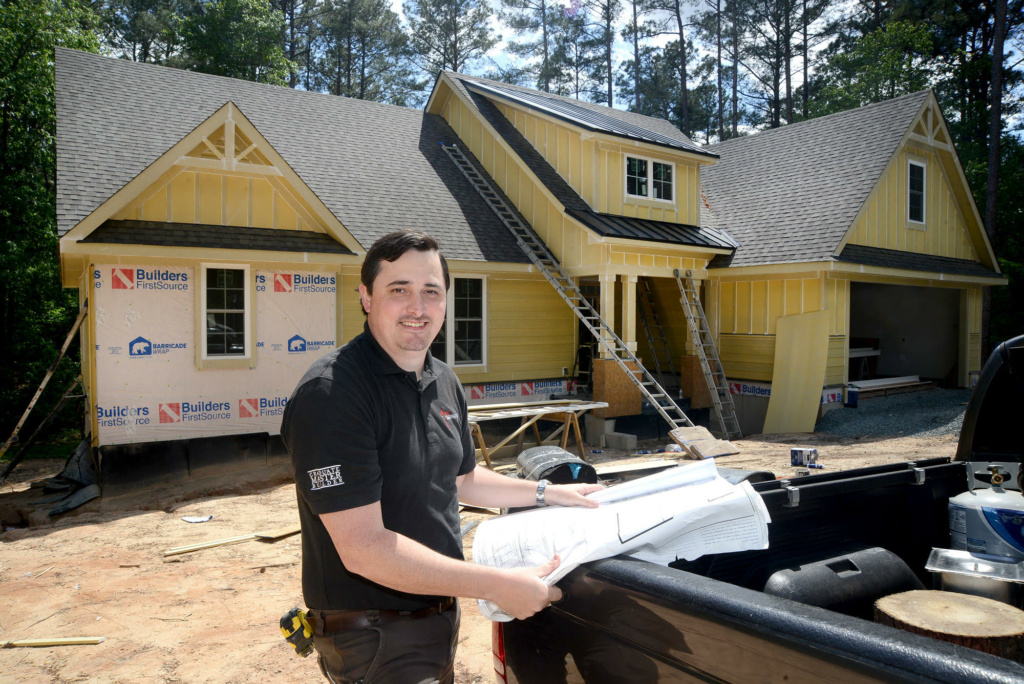 'Outgrowing our Resources'
There are approximately 1.9 million new construction starts in a given year, said Nash, while the wood capacity is hovering at 1.3 million homes.
When COVID hit, the sawmills began laying people off and are now finding that it's been hard to lure them back. She blames unemployment benefit programs that have been extended, and notes there have been fewer people going into the tree industry and the skilled trades overall.
"As long as the government is paying people to stay home, they are going to stay home," Nash said. "This isn't just a North Carolina problem and it's not just staffing the mills."
Haddock, president of the MCHBA Board, said anyone working in the skilled building trades "worth their salt is busy and booked."
"Workforce is a problem. Plumbing, carpentry, tile, electrical work, if you have these skills you are not waiting for a phone call. This has been a problem for a long time. We are growing and outgrowing our resources."
In recent years, MCHBA partnered with Sandhills Community College to build its skilled trades training programs. This fall, students have the option to enroll in Level 1 courses for HVAC and plumbing in addition to a construction management program.
Lori Degre, SCC's senior director of career training, said construction program instructors are needed especially as the trades program expands. "We hope to add different types of classes in the future, like tiling and masonry."
Nash said retired builders would be ideal candidates to teach the next generation.
"We have to be able to have people willing to show the way if there are young people who want to go into this profession. Our builders are getting by with who they can find, but they need more staff."
Adams, who also serves on the MCHBA Board, said he sees changes are happening in how people view skilled trades.
"There is a cultural shift. Being a tradesman is becoming a more respectable career again. So I'm happy to see that," he said.
"Personally, I feel good about what I do. It's hands-on work and it is a hard career, physically hard. But there is a lot of pride that comes from that. This is what we are starting to see getting back to."
Contact Laura Douglass at (910) 693-2474 or email laura@thepilot.com