CONTRIBUTED.
The Women's Golf Association of Seven Lakes Golf Club held its Member/Guest tournament (Fun with Friends) on Tuesday, June 22.
The field of 78 golfers played the format of Captain's Choice on the front nine holes, and two net Better Ball of each team on the back nine.
Although the weather forecast threatened rain/thunderstorms, the event was held without any downpours.
Following the golf, a cookout featuring hot dogs, burgers, chips, salad, watermelon and cookies was enjoyed by all. There were lots of door prizes and gift baskets won by the participants.
Flight 1 winners: Peter White, Mary White, Cheryl Bantle, Dan Martin with a score of 87. Second Place:  Denise Atkins, Lisa Bomkamp, Irving Shillingford, with a score of 90.
Flight 2 winners: Allen Critchett, Heather Guild, Pete Staaf, Brent Moss with a score of 83. Second Place: Becky Parr, Aimee Richards, Charlotte Kennedy, Nell Neal with a score of 84.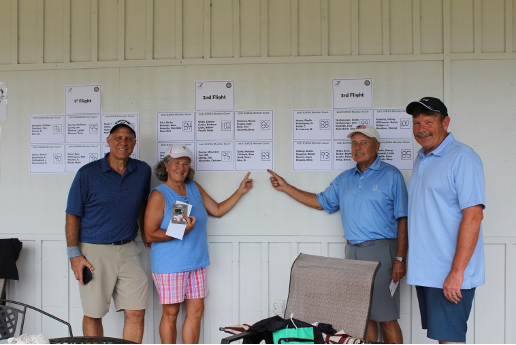 Flight 3 winners: Nancy Jacobs, Linda Bennett, Mary Helrich, Steve Bantle, with a score of 85. Second Place: Phyllis Kenny, D. Pennington, C. Smith, M. St. Laurent with a score of 88.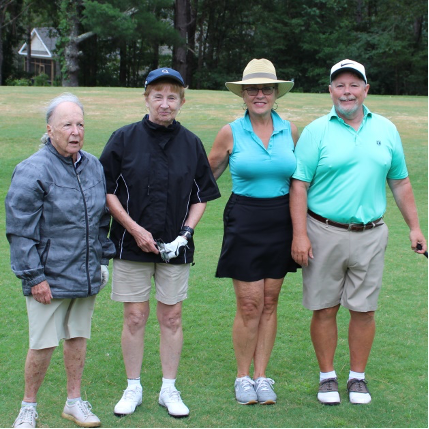 Closest to the pin on hole No. 5: men, Joe Causey; women, Becky Parr.
Closest to the pin on hole No. 7: men, Thomas Davidson; women, Aimee Richards.
Closest to the hole on the second shot on hole No. 3: Cheryl Bantle, Dan Martin, Mary White, Peter White.
Closest to the hole on the third shot on hole No. 8: Philippa Davidson, Thomas Davidson, R. Hawks, Joe Axe.
Many thanks to the following local sponsors that helped make this event a great success: Aberdeen Exterminating; Asheboro Dermatology Group; Boles Funeral Home; BVH Construction Services; Carolina Carriage; Carolina Chiropractic; Casa Santa Ana; Chad Higby, Realtor/Flatlisted.com, LLC; Champion Car Wash & Detail Shop; CrossRoads Ford Lincoln of Southern Pines; Edward Hill Wealth Management/LPL Financial; Elite Roofing; First Bank; Harris Printing; Lake House Bar & Grill; Lee Moore Insurance; LibrarySkills, Inc./St. Mary Magdalene Episcopal Church; Martha Gentry's Home Selling Team; McDonald's of Seven Lakes; Mid-South Overhead Doors; Over-2-Toms; Pinnacle Storage (Long Leaf Pines Storage); Premier Plumbing; Seven Lakes Family Dentistry; Seven Lakes Marine; Seven Lakes Prescription Shoppe; Shannon Stites, Broker; Southern Pines Chiropractic; Stacey's Hair Studio; Swiss Tech Awnings; TempControl; Tracy's Carpet; Beacon Ridge Golf Course; Foxfire Resort and Golf; Golf Augusta; Harris Teeter; Li'l Dino; New York Deli; Pinewood Country Club; Red Bowl; Robert's Golf; Sandhills Winery; Seagrove Pottery of the Sandhills; Southern Angel Donut Company; Thai Fusion; and First Health of the Carolinas.